Zara supplier accused of slave labor in Brazil
SAO PAULO, Aug 17 (Reuters) - Spain's Zara, owned by the world's largest clothing retailer Inditex SA (ITX.MC), is under investigation by Brazil's labor ministry after a supplier was accused of slave labor, a local seamstress union said on Wednesday.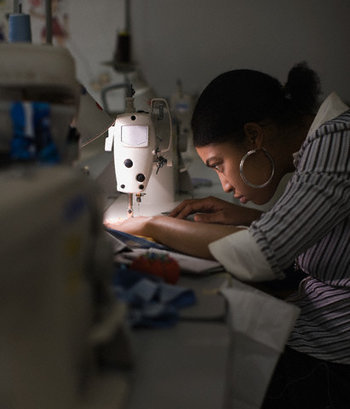 Photo: Corbis
Government investigators raided four Sao Paulo sweatshops in late June, union officials told Reuters. All the garments discovered in the investigation were labeled with the Zara brand.
"Before then, we had never received accusations" against Zara, Maria Susiclea Assis, who heads the Sao Paulo-based Sindicato das Costureiras de Sao Paulo e Osasco union, said in an interview.
The workers in the shops were from Boliva and Peru, she added.
Inditex, run until last month by 75-year-old founder Amancio Ortega, Spain's richest man, said in a statement sent from Sao Paulo that the case involved "unauthorized outsourcing" by a Brazilian supplier for the company.
The company did not provide the name of the supplier.
The investigation comes as the Brazilian government cracks down on slave labor in the logging, charcoal and sugar cane industries. Labor ministry representatives were not immediately available for comment.
Earlier this year, hundreds of workers fainted at Cambodian textile factories due to sweltering heat, long shifts and chemical exposure, putting major retailers
H&M
Hennes & Mauritz AB (HMb.ST),
Marks & Spencer
Group Plc (MKS.L) and Inditex in the spotlight and their suppliers under investigation.
Inditex confirmed an investigation discovered 16 unregistered workers in violation of the company's code of conduct, adding that the ministry is regularizing the workers' situation.
Inditex will make sure their working conditions comply with company standards.
"The supplier was entirely responsible for the financial compensation of the workers, as established in Brazilian law and Inditex's code of conduct," the company statement said.
Inditex shares closed 1.9 percent higher in Madrid at 60.15 euros on Wednesday.
(Writing by Brad Haynes; editing by Guillermo Parra-Bernal and
Andre
Grenon)
© Thomson Reuters 2023 All rights reserved.