Zara ranks 15th place with 4.4 million fans on Facebook
MADRID, 23 (EUROPA PRESS) - Apparel chain Zara, ranks most important of Inditex group's brands on Facebook. It occupies fifteenth place out of the top 50 brands in the world, with the greatest number of fans on the social networking site, analysed by 'Ignite Social Media' (data at end-July).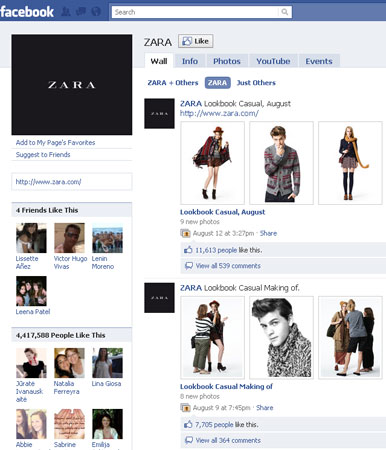 Zara's Facebook page
According to this study, Zara had 3.72 million fans on 29 July, a 24% increase from end-June. In any case, by Monday 23 August, the figure had grown to anumerate over 4.4 million fans in this virtual community.
Whilst noting Zara's social networking succes, fellow Spanish label Amancio Ortega prepares for the launch of its online shop on September 2, initially in six countries (Spain, Germany, France, Portugal, Italy and the UK) and simultaneously through not only computers but smart phones and tablet P.C's.
Ignite Social Media firm is the actual leader of its own ranking list on Facebook, with 14.53 million of fans, followed by Starbucks (11.2 million), YouTube (9.32 million) and Coca-Cola (8.86 million).
In front of Zara, textile firms listed at the top include Victoria's Secret at eighth position, then
Converse
All Star (twelfth) and Victoria's Secret Pink (fourteenth). The Swedish textile giant H & M, appears at no. 24.
Copyright © 2023 Europa Press. Está expresamente prohibida la redistribución y la redifusión de todo o parte de los contenidos de esta web sin su previo y expreso consentimiento.