Zara raises controversy in China
Last week, Zara was making headlines in the Chinese press, where the Spanish retailer was criticised over the quality of its products. China Daily, one of the country's daily newspapers, brought to people's attention test results published by Beijing's Consumers Association (BCA). Carried out in laboratory, they put to the test the quality and danger of 57 trousers from Chinese and international brands.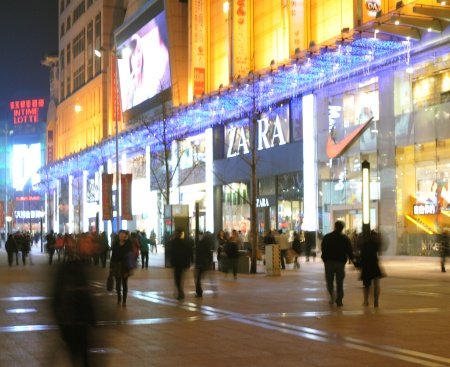 Zara store on Wang Fu Jing Avenue in the heart of Beijing - Photo: DR
In total, 20 pieces, of which 6 were international brands, were criticised by the association. While tests results from a pair of trousers by Chinese brand Jin'e showed the presence of formaldehyde (a chemical that irritates the eyes, nose and throat and which was also classified in 2005 by the World Health Organisation as definitely being a carcinogen), Zara was blamed for colour defect and false claims on labels. The retailer declared that its trousers consisted of 75% cotton, 20% wool and 5% tergal, when in reality it was less than 70% cotton and only a bit more than 10% wool. Brands such as
Hush Puppies
, Mcm, Mcs (ex-
Marlboro Classics
) and
G-Star
were also in this list.
"What upsets us most is not that Zara's products have been continuously failing tests, it is their silence about the quality issue found in China" – the association's vice-president Dong Qing explained in an interview with China Daily. "I don't think they carry such an arrogant attitude elsewhere. Their attitude really doesn't match their international image."
In the same way that luxury brands were subject to strong criticism over their products, Zara is now also facing similar accusations since its arrival in China. "Actually, continued Dong Qing, some Chinese brands care more about product quality than those well-known brands because they can't lure consumers to buy their products just by their brand names."
In light of these strong declarations, it is difficult to determine whether there is a real problem with product quality or if it is more a result of the sometimes tense relations between retailers and Chinese associations.
For its part,
Inditex
preferred to keep a low profile and explained: "Our garments are in compliance with all Health and Safety requirements in China. All chemical tests came back negative. In regards to product labelling, Zara's quality control department is working on correcting this problem in order to avoid it in the future. Inditex appreciates BCA's efforts and we thank it for helping us improve the information provided to our consumers and intend to work jointly in this direction".
Despite this apology, the association's president responded in a peremptory manner: "We will continue to monitor Zara's product quality.If they continue to sell substandard garments, we might have to ask them to leave Beijing. Foreign brands need to respect Chinese regulations and consumers."
The threat was hardly veiled and seems to go beyond the authority of a consumers association, but for now what could be the consequences of such declarations?
I am not going to stop buying clothes if I really like the design, explains
Sharon
, a Chinese consumer. Actually, I do not usually look at the percentage of cotton as long as there is no risk of allergies. However, international brands need to be honest with us. I will think twice before buying any of their products next time".
"The impact can sometimes be huge" - confirms Sébastien Breteau from the AsiaInspection cabinet, specialised in quality control. "But it rarely has a long-term effect. The Beijing Consumers Association (BCA) is linked to the Chinese Consumer Association (CCA). These two associations receive government grants and donations from members. Even if their impartiality is questionable, the majority of products tested are made in China and one of the government's priorities is to protect the "Made in China" brand.
Furthermore, amongst the brands criticised, many were from China or Hong Kong. The important thing for brands like Zara is precisely to show that they are correcting any mistakes via laboratory tests and quality controls throughout the whole manufacturing process".
Zara currently operates around 50 boutiques in China and is in the midst of an extensive development strategy, with several other openings planned for China in 2011. In the fierce competition that rages in this market, Inditex certainly does not want to delay its expansion. The Spanish group is thus going to have to improve the quality of its products… and its relations.
Copyright © 2023 FashionNetwork.com All rights reserved.