Zara owner Inditex first quarter net up 63 percent
MADRID (Reuters) - Zara fashion chain owner Inditex (ITX.MC) posted forecast-beating first-quarter net profit on Wednesday 9 June as its fast-to-market business model allowed it to respond quickly to an upswing in demand.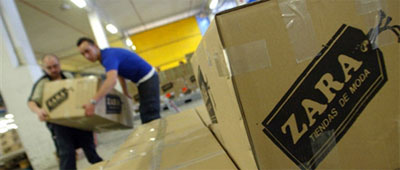 Photo : AFP/Miguel Riopa
Europe's biggest clothing retailer posted a 63 percent jump in net profit as it benefited from a sales recovery after almost two years of recession, with shoppers snapping up items like oversized graphic t-shirts, draped harem pants and tailored jackets.
Shares rose 5.3 percent by 8:57 a.m. British time, as analysts welcomed a greater-than-expected jump in gross margin.
Cash-rich Inditex has picked up market share in its home market Spain, which accounts for a third of sales, during an economic downturn in which many smaller clothing stores have gone out of business.
First-quarter net profit reached 301 million euros, above the 259 million forecast in a Reuters poll, on sales up 14 percent to 2.67 billion euros ($3.6 billion) against a forecast 2.63 billion.
Such results mark the continuing success of the company founded and still led by septuagenarian chairman and railway worker's son Amancio Ortega, the richest man in Spain with a personal fortune valued at $25 billion (17 billion pounds) by Forbes where he ranked No. 9 in the 2010 list of the world's billionaires.
IMPROVED DEMAND
Retailers worldwide are starting to see improved consumer demand after a punishing two-year economic downturn. Swedish rival Hennes & Mauritz (HMb.ST) beat expectations for first-quarter profit in April, with strong March sales suggesting a return to higher spending in the second quarter.
But key to Inditex's winning formula is production honed to instant feedback on trends and sales, tight control of the production process and geographically close manufacturing which means it can respond quickly to market demand.
Inditex, whose other brands include youth label Bershka and upmarket brand Massimo Dutti, does not break out like-for-like sales but Anne Critchlow, analyst at Societe Generale, estimated they were up 5 percent in the first quarter.
Gross margin increased 300 basis points from the same quarter last year. Although the metric is volatile, it dwarved the forecasts of many. Peter Farren, analyst at Bryan Garnier, expected an increase of 70 bps.
"They are in a habit now of beating expectations virtually every quarter," said Farren.
Inditex shares trade at 18.4 times forecast earnings for the year ending January 2011, compared with H&M's 19.2 times for its fiscal year ending November 2010, according to Reuters data.
The company, which operates nearly 5,000 stores in 76 countries, said it would start long-awaited Internet sales for its Zara chain on September 2 in Germany, Spain, France, Italy, Portugal and Britain. H&M launched online shopping in 1998.
The increasing popularity of online fashion was highlighted by UK-based ASOS (ASOS.L) which posted a 44 percent rise in yearly pretax profit.
(Additional reporting by Mark Potter in London; Editing by Jon Loades-Carter and David Holmes)
($1=.7453 Euro)
© Thomson Reuters 2023 All rights reserved.