Zara online shopping launched while Inditex sustains eco-commerce
Inditex's Strategic Environmental Plan 2007-2010 achieved various certifications in 3 of its stores including a first of its kind in Europe with Zara Barcelona being awarded LEED (Leadership in Energy and Environmental Design) certifiation.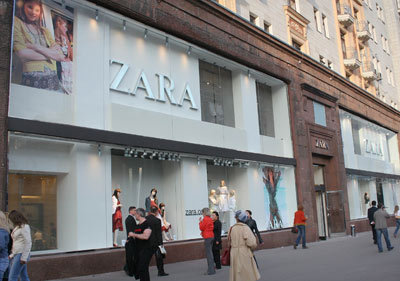 Zara Moscow
This eco-responsibility paid off as shareholders must have been delighted at AGM held on Tuesday to hear shares were up 14% from last year. They will receive a share of total dividends of 748 million Euros.
Distribution saw 343 new stores opened in 2009 of which 98% operate in international markets. More recently this year openings were launched in countries Kazakhstan, India and Bulgaria to amount retail surface area to just over 2 million m². In 2011 Inditex looks forward to opening doors in markets Australia and South Africa.
Thanks to strong sales growth (up 9% in 2009) what we've all been waiting for:- the Spanish group's Deputy Chairman
Pablo Isla
confirmed Zara online shopping goes live in September.
Isla's new initiative for the 2011 -2015 'Sustainable Inditex' aims "to cut direct carbon emissions as well as those deriving from industrial supplier activity". Last year the group carried out 1,302 social audits on its suppliers.
The plans outline a need for tighter eco-efficient standards in new stores and through refurbishments. This envelopes optimization of distribution routes, with more fuel-efficient vehicles and reduction of logistics packaging materials.
Copyright © 2023 FashionNetwork.com All rights reserved.