Timberland designed newest boots with disposal in mind
A few years back Timberland started putting labels on products showing the energy, materials and chemicals that went into their shoes and boots.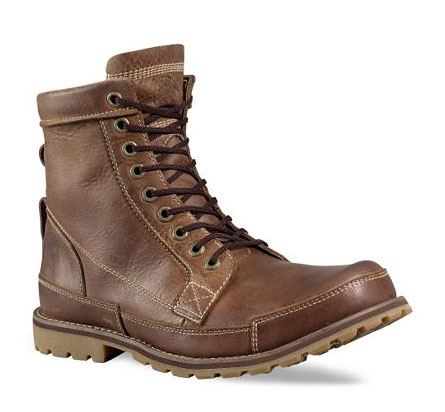 Men's Waterproof Earthkeepers™ Leather 6 Inch Boot Brown Burnished Leather from Timberland
With its Earthkeepers 2.0 boot set for release later this year, the company is putting something else into its footwear: a new way of designing boots.
The Earthkeepers 2.0 is Timberland's first product designed to be disassembled and recycled, and is part of the Earthkeepers line of products that was created in 2007. The boot is 80 percent recyclable, and its soles are made with Green Rubber, a material that contains 42 percent recycled rubber tires that have been devulcanized.
With the boot, Timberland is following though with its plans announced a a few months ago to commercialize the use of Green Rubber and design products with end-of-life in mind.
When customers return the Earthkeepers 2.0 boots to Timberland, the company will be able to take the main parts of the boots apart, recycle the soles into new Green Rubber, have the leather parts refurbished and recycled the polyester lining. Compared to the previous Earthkeepers boots, the new products produce 15 percent fewer greenhouse gas emissions and use 15 percent more recycled or renewable content.
The idea of companies making products that can be easily disassembled and recycled, and the idea of companies taking their own products back, has been circulating around various industries as more businesses see benefits from the processes.
Recycling and disposal is a key idea in many Cradle to Cradle products, like Steelcase's Think chair, which is 99 percent recyclable and can be taken apart in five minutes.
Some businesses, like Zeftron Nylon, are even seeing the benefits of taking back other companies' products to recycle and reuse. Zeftron Nylon has been taking in unwanted carpets from businesses, no matter the manufacturer, and recycling the carpets in order to make their own nylon 6 product.
A different approach is taken by
Nike
, which collects any type of athletic shoe, separates the rubber, foam and fabric, and them mixes the like materials together to make Nike Grind materials that are then used to make basketball courts, football fields, tennis courts and other sports surfaces.
By Jonathan Bardelline (GreenBiz.com/Reuters)
© Thomson Reuters 2022 All rights reserved.