Ted Baker profit up but warns of tough year
March 24 - British designer brand Ted Baker posted a 24 percent rise in full-year pretax profit on strong overseas demand, but expected 2011 to be a tough year given the pressures on consumer spending.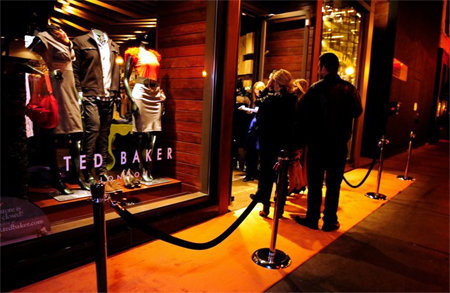 Ted Baker in Chicago
Ted Baker, which has operations in the UK, United States, continental Europe, the Middle East and Asia, said on Thursday it was encouraged by its spring/summer collections.
"We have continued carefully to expand the brand internationally ... will build on this momentum in 2011, with new store openings in the first half of the year including Paris, Hong Kong and Manchester," founder and Chief Executive Ray Kelvin said.
The company, which had its beginnings as a menswear brand in Glasgow in 1987, recommended a final dividend of 14.3 pence, making a total for the year of 20.6 pence, up 20 percent from the last year.
For the 52 weeks ended Jan. 29, pretax profit rose to 24.2 million pounds ($39.1 million) from 19.5 million pounds last year. Revenue grew 14.7 percent to 187.7 million pounds.
On Wednesday, Spain's
Inditex
, the world's No.1 fashion retailer, reported strong trading so far this year, driven by aggressive expansion into developing markets such as China and India.

Ted Baker shares closed at 650 pence on Wednesday on the London Stock Exchange.
(Reporting by Tresa Sherin Morera in Bangalore; Editing by Maju Samuel)

© Thomson Reuters 2023 All rights reserved.