Suitsupply, an original store concept for men
The Dutch company's stores offer both tailoring services and a wide range of styles that customers immediately like. Suitsupply has stores in the U.S. and Northern Europe but is not yet in France. They are also opening shop in Italy.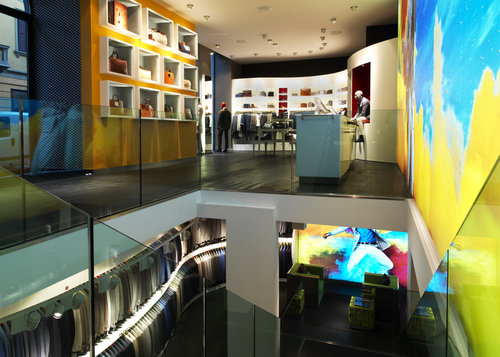 Suitsupply shop in Milan
To make ends meet during his studies, law student De Jong Vokke set up a small experimental workshop to make and sell graduation gowns to his fellow peers. Finished with school, the young Dutchman (now 37) made a definitive move into textiles by developing an original concept that he launched ten years ago. The project, called Suitsupply, is aimed at the "cross-market consumer."
Very designer, very spacious 500 m² stores offer men the total look – from shoes to ties to shirts, jackets, coats and pants, covering both formal and casual wear at bargain prices, from 299 euros to 699 euros for an entire suit. The style is classic-elegant but slightly sporty, featuring models with modern, narrow cuts. 

"Our strong point is service. Once in the store, the customer is exposed to all our models in all sizes and in all colors. There is always a tailor on duty, ready to make the necessary adjustments or even a made-to-measure garment so that the client gets a good fitting," says Vokke De Jong, who has made customer loyalty and word-of-mouth the keys to his success.
"Our stores are designed as places where people want to come, which is why they are only in large cities, not on streets with a lot of foot traffic, but close by," says the manager. 

Made-to-measure suits represent 20-25% of Suitsupply sales. The clothes are all designed by an in-house design team based at the company's corporate headquarters in Amsterdam and rely on the styling and detailing of Italian men's couture. The suits are manufactured largely in Asia, although some product categories are made in Italy, such as shoes. The brand's collections offers very affordable prices through the company's vertical organization, which directly manages all its stores. Today Suitsupply has 41 stores worldwide, including 23 in Holland.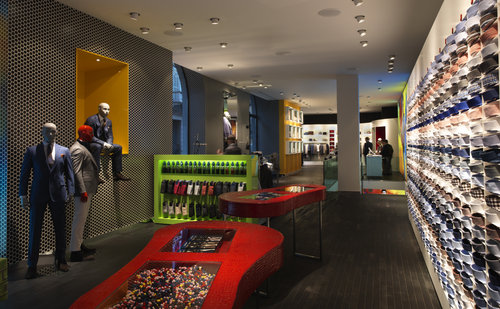 The Milan store shirt deparment
Sales are currently at 70 million euros, and the company aims to reach 100 million in sales for 2013. It also has locations in Germany, Belgium, England and the United States, and will soon open a second address in New York and stores in Chicago and Washington. 

The label arrived in Italy in January with a store in Milan, near San Babila. "It took us two years to find the right place, but now sales are beyond our expectations. We now want to open a shop in Rome." However, they still have not found a suitable place in Paris, where Suitsupply would also like to locate. The Dutchman is also considering diversifying into knits and cosmetics in the future.
Copyright © 2022 FashionNetwork.com All rights reserved.