Perry Ellis International announces public offerings
Perry Ellis International announced that it intends to offer 2.0 million shares of its common stock and $125 million in aggregate principal amount of senior subordinated notes due 2019 through concurrent public offerings.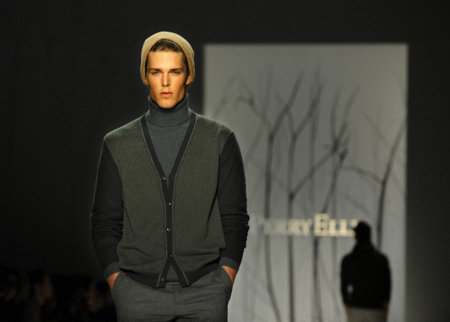 A model presents a creation of Perry Ellis at the 2011 New York fall/winter fashion week in New York, Feb 11th, 2011.
Certain selling stockholders of the company intend to offer an additional 600,000 shares of common stock in the public offering. Perry Ellis will not receive any proceeds from this secondary offering. The company also will grant the underwriters of the common stock offering a 30-day option to purchase up to an additional 15% of the common stock sold to cover overallotments.
Perry Ellis International Inc. is a leading designer, distributor and licensor of a broad line of high quality men's, women's and children's apparel, accessories and fragrances. Through multiple distribution channels, the company offers a diverse portfolio of brands focusing mainly on sportswear and casual clothing, such as Perry Ellis, Savane, Jantzen, Original Penguin, Cubavera,
Nike
Swim, among others.
Copyright © 2023 FashionNetwork.com All rights reserved.