Patrizia Pepe launches interactive campaign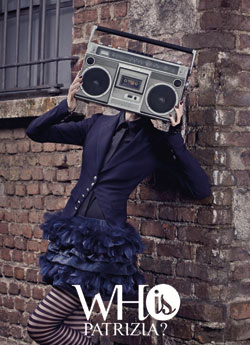 One of the eleven campaign images.
Patrizia Pepe
decided to attract awareness of its designer, Patrizia Bambi. The campaign, which has just started, features 11 designs in which the models' faces are hidden by accessories.
The slogan attached forms a play on letters with "Who is Patrizia ? ". "Our designer is not a jet-setter and perhaps less recognised as others designers. We wanted to transform this fact with humour.
We changed the message without changing our target," says Carlotta Mocali, ECommerce Product & Strategy Planner. Via the website, the public is invited to an interactive journey into the world of Patrizia Pepe to discover its identity and true image. The originality is to combine a questionnaire with consumer's Facebook profiles.
The tastes of the user and Patrizia are no longer isolated. "The idea of masked faces and this questionnaire is to remind us that all women get dressed up," continued the manager.
The campaign targets European countries, China and the Middle East. It was partly produced by TBWA Italia.
Copyright © 2023 FashionNetwork.com All rights reserved.