Nike pulls output at 4 Asia plants, more may come
SAN FRANCISCO, March 24 (Reuters) - Nike Inc (NKE.N) plans to halt its production at three shoe factories in China and one in Vietnam as crumbling consumer demand forces it to curtail output and streamline its supply chain.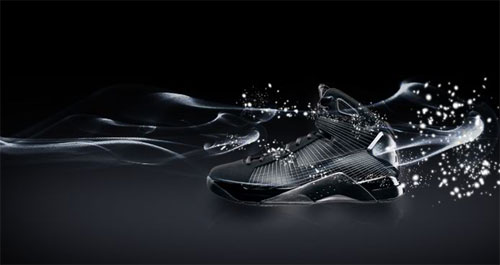 Nike Hyperdunk
The move comes as manufacturers, reeling from a worldwide consumer-spending slowdown, shutter plants in Asia, lay off workers or reduce orders, devastating a region that has long played the role of manufacturing base for Western markets.
Nike isn't done: it may also decide to pull apparel orders from other factories it uses around the world, Erin Dobson, Nike's director of corporate responsibility, told Reuters.
Nike uses about 640 apparel, footwear, and other types of factories across the world, with an estimated 180 in China employing over 200,000 people in 2008 -- much of that migrant labor employed at low wages.
The locations of the four factories being phased out by Nike were not disclosed. Nike is the main or sole buyer at all four, which all produce shoes for the sportswear company on contract as part of a global footwear network of 72 sites.
But it will take Nike six to 12 months to phase out orders completely once a decision is taken, giving them time to find new buyers, Dobson said. She would not say how many factories Nike now uses in China or Vietnam.
"We have begun notification to four factories that we will be discontinuing orders with them," said Dobson, also director of corporate communications. "The goal with giving them six to 12 months is it gives them the opportunity to seek new buyers."
Nike is trying to direct production into fewer factory bases instead of spreading orders over a larger number of plants, trimming costs while whittling down its supply chain.
The Beaverton, Oregon-based athletic shoe and apparel maker now produces most its shoes in China, Vietnam and Indonesia, in that order. China will remain the company's largest producer of footwear, equipment and apparel, Dobson said.
Among consumer companies, Nike has remained relatively resilient in the face of the global slowdown. However, fewer consumers worldwide are shelling out money for the swoosh logo, and the company saw total sales decline in its most recent quarter, with the greatest pressure coming from Europe.
MORE IN THE OFFING
Nike has been dogged by criticism in the past over unfair working conditions at some of its factories, but Dobson said there was no indication labor abuses were behind closures.
In January, Nike unveiled a company-wide revamp aimed at bringing products more quickly to market while cutting costs. It warned it could cut up to 4 percent of its workforce, or some 1,400 jobs.
The company joins other global brands in slashing orders from or production in Asia. Intel, facing diminished demand for the microprocessors that go into computers and consumer electronics, is eliminating 2,000 jobs in Shanghai and shutting plants in Malaysia and the Philippines.
In the manufacturing powerhouse of Guangdong province in southern China, an estimated 62,000 export-oriented companies went bust in 2008, walloped by the protracted downturn.
Dobson said the company now planned to pull orders from a number of its apparel factories, but those plants did not account for a significant amount of its orders, nor was Nike their biggest buyer, Dobson said without elaborating.
"These are unfortunate circumstances when you have to do this, and your hope is the good factories will replace your business," Dobson said.
Shares in Nike slid 4.2 percent on Tuesday March 24. (Reporting by Alexandria Sage; Editing by Edwin Chan, Gary Hill)
© Thomson Reuters 2022 All rights reserved.