Nike net profit rises, but US revenue down
SAN FRANCISCO (Reuters) - Nike Inc's quarterly net profit rose 9 percent on higher-priced products and international growth, but revenue fell in the United States, its largest segment, and at the non-Nike brands group.
Shares slipped 1.7 percent in after-hours trade.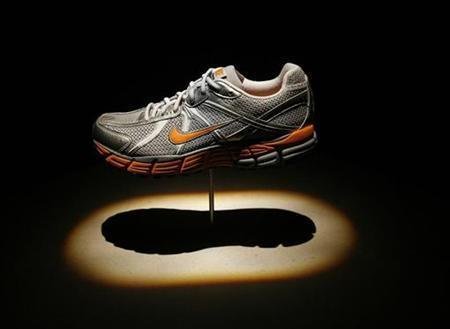 The world's largest athletic shoe and clothing maker said second-quarter net income rose to $391.0 million, or 80 cents per share, from $359.4 million, or 71 cents per share, a year earlier.
Sales rose 6 percent, with gains in all regions except the United States, where revenue fell 1 percent. Revenue rose 6 percent in Europe and 22 percent in the Asia Pacific region.
Revenue in the company's non-Nike brands group, which includes Cole Haan, Hurley and Converse, fell 4 percent. Nike recently sold off two brands in the division: Bauer Hockey and the Starter Brand.
Nike has remained relatively resilient to the weakening consumer environment around the world and had managed to raise prices in the United States, its largest, most mature market. Business this year was also buoyed by interest in the Beijing Olympics, with China as Nike's fastest-growing market.
Global orders for delivery of shoes and apparel now through April fell 1 percent, but rose 6 percent on a constant currency basis, the company said.
U.S. futures orders rose 6 percent in the United States, but fell 13 percent in the region that includes Europe, the Middle East and Africa. Orders rose 11 percent for the Asia-Pacific region and 6 percent for the Americas.
Gross margins rose in the quarter to 44.7 percent of sales from 44.3 percent, helped by favorable hedge results and price increases. The company's tax rate also fell to 24.9 percent from 30.3 percent a year earlier.
But marketing costs and overhead spending rose in the quarter, Nike said.
Nike shares, which trade at about 12 times projected fiscal 2009 earnings, are valued above those of main German competitor Adidas AG , at 8 times estimated fiscal 2009 earnings.
Shares fell to $49.79 in extended trade, after closing on the New York Stock Exchange at $50.64, up 2 percent.
(Reporting by Alexandria Sage; Editing by Bernard Orr)
© Thomson Reuters 2023 All rights reserved.