Naomi Campbell champions African models, mothers


By Katrina Manson

DAR ES SALAAM, Nov 13 (Reuters Life!) - Carrying a golden dagger on her first African catwalk, supermodel Naomi Campbell emerged from behind a shimmering veil to make a pointed attack on the developed world's discrimination against black models.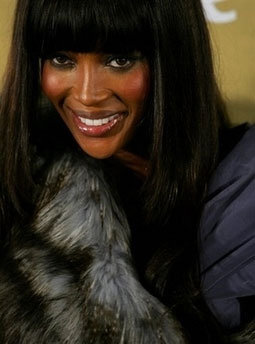 Naomi Campbell - Photo : AFP
"Where do we see a woman of colour in an advert? It's quite blatant," she told Reuters in an interview backstage at her "Fashion for Relief" charity fashion show, which she held in Africa for the first time.
"There's definitely space (for more black models) but has there been enough effort? It was getting better but it's slipped back this year."
The British supermodel brought together flamboyant outfits laced with beads, peacock feathers and big necklaces from local designers, as well as aspiring models from across the continent who are competing to be the new "Face of Africa".
Many of the women were star-struck meeting Campbell, who helped advise backstage on hairstyles, makeup and posed for photos at the show held in the sultry Tanzanian coastal city of Dar es Salaam.
"Women of colour who have had a great experience in life need to share their experiences with others. The world is not made up of blonde hair and blue eyes. We need to share ourselves," she said.
"It's like a dream come true to meet her", said Tholakele Dlamini, a 23-year-old "Face of Africa" contestant from Zimbabwe.
"I think there need to be more black models to balance it out a bit -- there's a lot of quality out there with potential."
Modelling was an unexpected career move for Dlamini, whose parents were in the army and wanted her to become a soldier.
I think most girls dream but they don't chase after their dream: I'm chasing," she said backstage.
For Campbell, who regularly visits neighbouring Kenya but has never before walked a runway in Africa, the continent has great potential.
"Africa is a place of tragedy but I see beauty everywhere -- there are all these beautiful African women of colour," she said. "You see these long necks of elegant women just walking in the streets."
MATERNAL FIGHT
Previous "Fashion For Relief" shows put on by Campbell in New York, London and Mumbai have raised as much as $1 million for causes such as relief from floods, Hurricane Katrina and other natural disasters.
Funds from the fashion event in Dar es Salaam, during which a dress Campbell wore from local designer Mustafa Hassanali was auctioned off to charity for $10,000, will go to support maternal health.
Campbell is global ambassador for the
White
Ribbon Alliance, an international coalition for maternal health, which is this year holding its annual general meeting in Tanzania, where a woman dies in childbirth every hour.
"No woman should die giving birth," said Campbell from the catwalk at the end of the show.
Pregnancy is the leading killer of women of reproductive age in the developing world -- more than 80 percent of them preventable. A woman dies in childbirth or pregnancy every minute worldwide.
The organisation, which lobbies for more health workers, wants an extra $10 billion a year for maternal mortality and an extra four million trained health workers before 2015, the deadline by which the Millennium Development Goal stipulates maternal mortality should be reduced by 75 percent.
Very little progress has been made on rates of maternal mortality in two decades.
Campbell will visit a local maternal clinic on Friday 13 November to meet mothers and healthcare workers. (Editing by Paul Casciato)
© Thomson Reuters 2022 All rights reserved.