Michael Kors IPO to make the cut despite gloom
Luxury lifestyle company Michael Kors Holdings' shares are expected to fly off the shelves as affluent shoppers continue to spend despite a gloomy economic environment.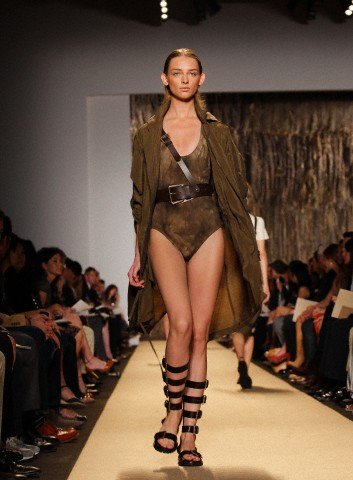 Michael Kors fashion show, Photo: Corbis Images
The Hong Kong-based company, named after fashion designer Michael Kors -- a judge on TV show "Project Runway" -- is going public at a time when U.S. investors are being highly selective about their IPO investments.
"That he is a well-known designer is a very positive thing and there is the thinking that the luxury end of the market, which he represents to a certain extent, is making a comeback as markets stabilize," said David Menlow, president of IPOfinancial.com.
The luxury goods industry has rebounded strongly after the sharp downturn of 2009, and analysts see 2011 to be another record year, particularly for watchmakers, luxury hotels, fashion and leather goods groups.
The IPO window that was opened by Groupon's solid debut last month is fast closing as the Holiday season kicks in, and companies like Michael Kors and social games maker Zynga are in a hurry to complete their listings by mid-December, in what is seen as the busiest week for U.S. IPOs since 2007.
Michael Kors Holdings' offering follows a successful $2.1 billion IPO of Italian fashion house Prada SpA in Hong Kong and a $487 million IPO of Italian luxury shoemaker Salvatore Ferragamo.
Prada's stock has fallen 14 percent since listing, while Salvatore Ferragamo has seen its shares rise about 27 percent since going public.
Michael Kors Holdings' offering consists of 41.7 million shares, at an indicative price range of $17-$19, valuing the company at as much as $3.63 billion. It expects to start trading Thursday on the New York Stock Exchange.
"The stock is going to open at a premium," said Menlow. "But it will not leave investors behind with sudden spikes that will have them saying, 'I wish I had bought the IPO.'"
At the high end of its anticipated price tag, the company would trade at about 4.5 times its fiscal 2011 revenue of $803.3 million. Rivals like Coach and Ralph Lauren are trading at 4.8 times and 2.4 times, respectively.
As of Oct. 1, Michael Kors Holdings -- which sells fashion accessories, footwear and apparel -- operated 169 retail stores in North America and 34 international stores in Europe and Japan, and competes with retailers such as Coach, Burberry , Ralph Lauren and Hermes International.
"In the long term, we believe that we can increase our global retail store base to about 400 locations in North America, 100 locations in Europe and another 100 in Japan," Michael Kors Holdings said in a recent regulatory filing.
The company has not only stayed profitable through the financial crisis, but has also managed to nearly double its profit to $72.5 million for fiscal 2011.
However, analysts did express some concerns about the company's business, especially because it caters to the discretionary spender.
"They've increased sales a lot over the past couple of years. I don't know if they can continue the same rate of growth with an economy this flatlined," IPOdesktop.com analyst Francis Gaskins said.
Founder and Chief Creative Officer Michael Kors, who has designed clothes for A-list names from Michelle Obama to Heidi Klum, is selling 5.8 million shares and is likely to pocket over $110 million, if the IPO is priced at the high end of the expected range.
Other stockholders selling through the offering include the company's CEO John Idol, investors Silas Chou and Lawrence Stroll who bought a controlling stake in Michael Kors LLC through their Hong Kong-based private equity firm Sportswear Holdings Ltd in 2003, and Michael Kors' partner Lance LePere.
The company itself is not offering any shares in the IPO.
Some analysts also said a company's brand tied to a single person could cause some apprehension among investors.
The terms of Michael Kors' agreement with the company provide for the continuous employment of Kors through the date of his death or permanent disability.
"If a bus hits him tomorrow, it would hurt the brand, and it would hurt the sales," Gaskins said. (Reporting by Brenton Cordeiro in Bangalore; Editing by Sriraj Kalluvila)
© Thomson Reuters 2023 All rights reserved.