Michael Kors announces multiple store openings worldwide
American designer Michael Kors has just passed through Paris, right in the middle of the city's fashion week, in order to open his biggest store to date in the world. Located on Saint-Honoré Street, the new boutique covers a total floor space of 650 m2. The designer has also only just opened another store on New York's Madison Avenue in mid-February, but he is not stopping there. On March 12th, the brand will open its second point of sale in London, on Regent Street, covering an area of 550 m2. The first one was launched one year ago on New Bond Street. Another opening planned for the Spring/Summer 2011 season will be a point of at Hong Kong's luxury hotel Peninsula on Salisbury road.


Exterior of Michael Kors bourique on Saint-Honoré street, between "Hermès et Colette"
Celebrating his label's 30th Anniversary this year, Michael Kors is counting on 25 store openings until the end of the year, on top of the 125 points of sale that already exist. In Europe, the brand already has monobrand stores in Munich, Milan, London and Paris, but is also searching for available sites in Madrid, Rome, Berlin, Düsseldorf and another one in Milan where it could build more stores. Michael Kors also wishes to establish his brand in Istanbul, Dubai and Abu Dhabi. In 2010, Michael Kors created a subsidiary company in Japan and it is now sold in some of the country's department stores as well as at a Michal Kors boutique located in Tokyo, which opened in 2010. The brand also has big ambitions in China, where it aims to have opened around 50 points of sale over the next 3 years.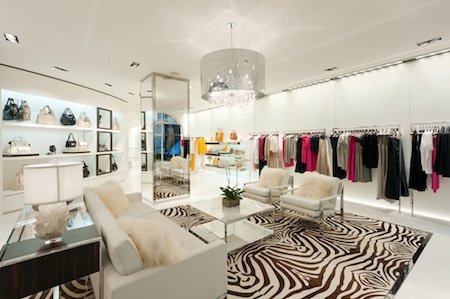 Interior of the new Parisian store
Each boutique offers different collections. In Paris, for example, the store offers both the 'Collection' and 'Lifestyle' lines, but not the menswear one. As for London, customers can find the 'Collection' line at the New Bond Street boutique, and 'Lifestyle' on Regent Street. According to the designer, his products are made for all types women, and that is why the Parisian location on Saint-Honoré Street is perfect: "Between
Hermès
and
Colette
. Between classic and trendy", he explains. Michal Kors' mixture of the American style with international influences does indeed seem to appeal to a large public. "The brand's turnover has almost reached 1 billion dollars through sales from the monobrand boutiques and from over 1,000 multibrand retailers", says John idol, Michael Kors CEO. For him, "retail is the most important factor in development'.
Copyright © 2023 FashionNetwork.com All rights reserved.