Mariella Burani declared insolvent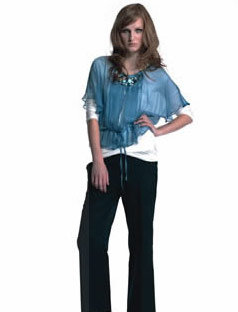 Blossom Burani, 2010 collection
By Simone Bagnacane
REGGIO EMILIA, Italy, March 17 (Reuters) - An Italian court has declared debt-laden Mariella Burani Fashion Group (MBFG.MI) (MBFG) insolvent, leaving 30 days to decide whether the luxury goods maker can be saved by an administration process.
The court in the northern town of Reggio Emilia, where MBFG is based, has nominated a commissioner, accountant Francesco Ruscigno, who will evaluate whether the company meets Italian requirements for special administration over the coming month.
The process aims to find ways to revive the business of companies in financial difficulties without closing them down.
Alessandra Giovetti, a lawyer for MBFG, said that under special administration either assets could be sold or an agreement with creditors could be found. "There is still a chance to reach an accord with creditors," she told Reuters.
MBFG, which employs about 2,000 people in Italy, has been struggling with nearly 500 million euros ($690 million) in debt, the result of a string of acquisitions.
It said last month it was seeking protection from creditors after it failed to get funds to cover losses. It had had been talking to banks for months to agree a debt deal.
In January, a Milan court declared the Burani family's Burani Designer Holding, which indirectly controls MBFG, insolvent.
Unions had called for extraordinary administration in the hope of minimising job losses under a commissioner who would take over management.
Founded in 1960, MBFG fell into financial difficulties as demand for clothes and accessories felt the pinch of the global crisis.
IT Holding (ITH.MI), owner of Milan fashion brand Gianfranco Ferre, was put into administration last year and is now in the hands of government-appointed commissioners.
MBFG shares have been suspended since the end of August. (Writing by Marie-Louise Gumuchian in Milan, editing by Will Waterman) ($1=.7252 Euro)
© Thomson Reuters 2022 All rights reserved.