London Collections: Men to be held on same dates as Pitti
It looks like the next edition of London Collections: Men, which attracted a lot of media attention when it was held for the very first time in June, is going to cause a diary headache for those also wanting to visit Pitti Uomo in Florence. The British Fashion Council has chosen 7th, 8th and 9th January as the dates for the second round of LC: M. Pitti, however, is also due to be held on 8th and 9th January.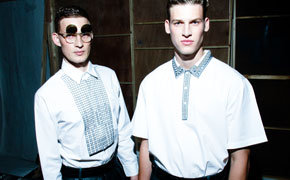 James Long spring-summer 2013 / Photo: BFC
When contacted by FashionMag, the spokesperson for the British Fashion Council wasn't able to give an explanation for the decision, which could see certain exhibitors and buyers being forced to choose between one and the other. It would be fairly safe to conclude that strategically speaking most would choose Florence over London.
At the same time as announcing its controversial and (too?) ambitious dates for the next edition, the British Fashion Council also announced that Dylan Jones – editor of
GQ
– has been recruited as chairman of the next four editions of London Collections: Men. The news would suggest that the British Fashion Council has full confidence in its business model.
Copyright © 2023 FashionNetwork.com All rights reserved.