John Lewis weekly dept store sales up 15.5 percent
LONDON, May 21 (Reuters) - British retailer John Lewis Partnership [JLP.UL] on Friday 21 May gave the following sales figures for the latest week compared with a year earlier.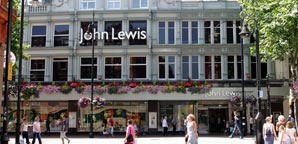 John Lewis in Reading, Berkshire
Week to May 15 15 weeks to May 15
Total sales 11.8 pct 13.8 pct
Dept stores 15.5 pct 16.6 pct
Food group 9.8 pct 12.3 pct
"Overall, Fashion had the strongest trade at +21 per cent: menswear and sports, fuelled by World Cup merchandise, were the strongest area at +31 per cent but with womenswear, childrenswear and accessories all beating the +20 per cent mark," John Lewis said in a statement about the performance of its department stores.
"Home was not far behind at +18 per cent with Furniture particularly impressive at +25 per cent. Home accessories and gifts had a strong week at +25 per cent with continued buoyant sales from the seasonal and new decorative and gift collections. However, unseasonably cold weather in some parts subdued outdoor living sales.
"In EHT, it was good to see consumer electronics build on their trade in the run-up to the World Cup, with special interest in both the new Sony and Panasonic TV ranges and 3D television."
© Thomson Reuters 2022 All rights reserved.