John Lewis ups sales guidance, sees UK recovering
LONDON - John Lewis, Britain's biggest department store group, has raised its sales guidance after outperforming a flat retail market in its first quarter and believes the economy is on course for a slow recovery, despite a recent dip back into recession.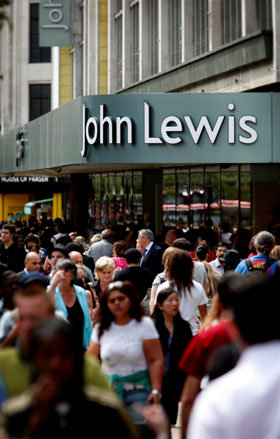 Photo: John Lewis
"My gut feel is a long, slow, steady recovery that at certain points will look like a non-recovery and at other points might feel, like it has for us in the last few months, OK," Andrew Murphy, retail director at the employee-owned chain, told Reuters.
"But I suspect in five years time we'll look back and we'll see a very gentle gradient upwards."
Many British retailers are struggling as shoppers grapple with higher prices, muted wage growth and government austerity measures, and preliminary data last month showed the economy tipping back into recession.
A survey last week also showed British retail sales posted their biggest fall in more than a year in April, while cards and gifts chain Clinton Cards entered administration, a form of protection from creditors.
John Lewis, which trades from 29 department stores across the UK, eight smaller 'at home' stores, and an online business, has long outperformed the wider market as its generally more affluent customers have been less impacted by the downturn.
In its first quarter to April 28, the 148-year-old group posted sales growth of 12.2 percent, which Murphy said equated to like-for-like growth of about 7 percent and strongly outperformed a flattish overall market.
"We have revised our expectation upwards but candidly we haven't revised our expectation of the market," he said in an interview at the group's London headquarters.
"Overall our like-for-like (sales) expectation (for the year to end-Jan. 2013) was what I'd describe as cautiously positive and now I would describe it as more strongly positive," he said.
OLYMPICS BOOST
John Lewis has also benefited recently from a prolonged period of poor weather, favourable for its household goods business, as well as capacity coming out of the market in various categories in which it trades, particularly electricals.
But Murphy stressed the firm's success is also due to measures it has taken to improve its product offer and service.
"Over the last three years we have built a business that is very effective from brand, through assortment to service to after sales," he said.
"At every customer touch point from consideration right the way through to when, if it ever does, the thing goes wrong, I would argue that you can put us toe to toe with any UK retailer and we would be the best or right up there."
Murphy was sympathetic to the Conservative-led government's tough austerity policies, despite criticism they are holding back economic growth.
"I think their appraisal is we've just about avoided something horrendous but we need a couple of years of basic rations to be really sure of that. I don't disagree with that," he said.
The trading director believes celebrations to mark the London Olympics and the Queen's Diamond Jubilee will be a "strong positive" for the south east of England and "a small positive" for the UK as a whole.
He noted sales of Jubilee merchandise were trumping those for last year's royal wedding by two to one, while sales of Olympics merchandise were "well beyond" expectations.
"When you engage with the Olympic footfall numbers and particularly if you are a sponsor business (like John Lewis) the multiples for the four weeks around the Olympics are really phenomenal, almost scarily so, based on previous Olympics," he added.
© Thomson Reuters 2022 All rights reserved.