Inditex 9-mo net profit up 2 pct, misses forecast
* Nine-month net profit 843 mln euros ($1.2 billion)
* Misses analysts' expectations of 865.4 million euros
* Q4 sales so far show same growth patterns as Q3
MADRID, Dec 11 (Reuters) - Zara fashion store owner Inditex reported nine-month net profit up 2 percent on Thursday boosted by the aggressive store opening rate of Europe's biggest clothing retailer.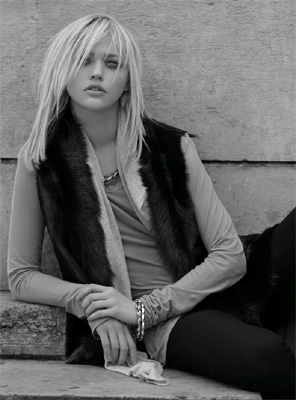 Zara fall-winter 2008/2009
Inditex reported net profit of 843 million euros for the three months to end-October, missing the forecast of a Reuters poll of 11 analysts of 865.4 million euros.
Earnings before interest, tax, depreciation and amortisation (EBITDA) came in at 1,545 million euros on sales of 7.35 billion euros, up 11 percent.
Sales in the first six weeks of the fourth quarter showed the same patterns of growth as the third quarter, Inditex, whose financial year starts in February, said.
Inditex is due to give a conference call for analysts at 0900 GMT.
Investors will look for any indications of how a sharp drop in consumer demand worldwide has affected sales in the group's branded stores which range from upmarket Massimo Dutti to teen fashion offering Bershka.
Economists expect Spain, accounting for around 35 percent of Inditex's business, to enter recession this year.
© Thomson Reuters 2023 All rights reserved.