HK retail investors put off Prada IPO by tax worries
June 15 - Milan-based fashion house Prada SpA has met with limp demand from retail investors for its up to $2.6 billion Hong Kong IPO with some potential buyers put off by having to pay Italian capital gains tax, brokers said on Wednesday.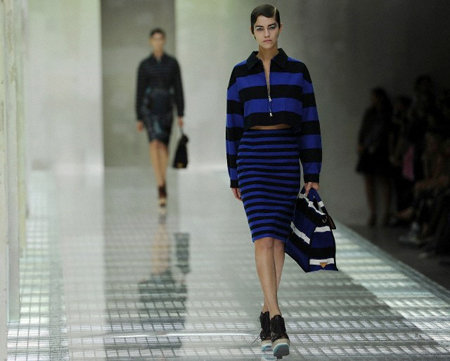 A model presents a creation by Prada during the Milan Fashion Week Spring/Summer 2011 (Photo: Corbis)
Retail investors are lively players in Hong Kong initial public offerings, especially for popular consumer brands, and usually about 10 percent of shares in IPOs are set aside for them.
However, demand for Prada's retail offering has been tepid, with many investors withdrawing margin financing orders to buy Prada shares, several retail brokers in Hong Kong told Reuters.
"We received little demand from our (retail) clients for the (Prada) shares. It might be the 12.5 percent tax that scared them away and the pricing itself was expensive when it compared with its peers," said Alfred Chan, chief dealer at Cheer Pearl Investment. "Unlike institutions, our retail clients hold the shares for a much shorter term," he added.
Prada, known for its leather handbags, brightly-coloured shoes and long boots, has drawn stronger interest from fund managers wanting exposure to the company's strong growth prospects, particularly in Asia.
A source told Reuters on Sunday that the institutional portion of the offer had been five times subscribed, despite some criticisms over its rich pricing.
MARGIN FINANCE DEMAND FADES

Bright
Smart
Securities has seen margin finance demand plunge to HK$50 million ($6.4 million) on Tuesday from HK$100 million on Monday. Phillip Securities has seen orders drop to HK$17 million by Wednesday from HK$45 million on Monday. Haitong Securities, though, has seen a slight pick up, with orders edging to HK$13 million on Tuesday from HK$10 million on Monday.
Margin financing at the three brokers totalled $10.3 million, compared with about $260 million worth of shares available under Prada's retail offer.
IPOs in hot demand tend to draw large volumes of margin financing as investors put in bids several times larger than what they actually want to purchase in the hopes of securing some portion of the offering. Milan Station , a retailer of second-hand luxury handbags, saw its IPO in May subscribed more than 2,000 times and had nearly HK$5 billion in margin financing, Phillip Securities said.
Prada warned in its IPO prospectus that Hong Kong residents would be liable to a withholding tax on dividends on top of the capital gains tax. Hong Kong is known for its low-tax regime, with no capital gains taxes, no sales tax or value added tax (VAT) and has among the smallest income taxes on salaries.
A Prada spokeswoman declined to comment on the tax issue.
"Hong Kong investors are not used to this type of tax, particularly the capital gains tax," said Daniel So, an analyst at Sun Hung Kai Financial who called Prada fully-valued. "Some investors may not choose Prada, since there are other alternatives for high-end luxury stocks, or companies that play to the Chinese consumer story."
Hong Kong and Italy first tried to start tax negotiations in October 2004. Local media reports said on Wednesday the countries have been in talks for several years over a tax treaty and those negotiations may be expedited in part because of the issues surrounding Prada's IPO.
"There is likely to be an enforcement issue -- if the seller and purchaser are both outside the jurisdiction, it could be difficult for the Italian authorities to enforce the taxes even if they have the information," said Ayesha Lau, a tax partner at KPMG in Hong Kong.
"Negotiations have started between Hong Kong and Italy to get a double tax agreement in place, although the exact status is not yet clear."
Apart from the tax issues, retail appetite for Prada may have been reduced due to volatile global markets in recent weeks.
Prada's IPO is set to be priced on Friday. Founded in 1913, the company is 95 percent owned by designer
Miuccia Prada
and her husband Patrizio Bertelli and will stay controlled by the pair. They plan to float around 20 percent.
Prada intends to use the funds to repay debt and open more stores.

By Donny Kwok and Elzio Barreto
(Additional reporting by Rachel Armstrong in Singapore, Editing by Denny Thomas and Lincoln Feast)
© Thomson Reuters 2022 All rights reserved.