H&M to post 24 percent Q1 profit drop as costs rise
STOCKHOLM | Tue Mar 29, 2011 - Hennes & Mauritz (HMb.ST) is set to report a 24 percent dive in quarterly earnings on Thursday and investors will be anxious to see how it is coping with the rising cost of cotton and wary European consumers.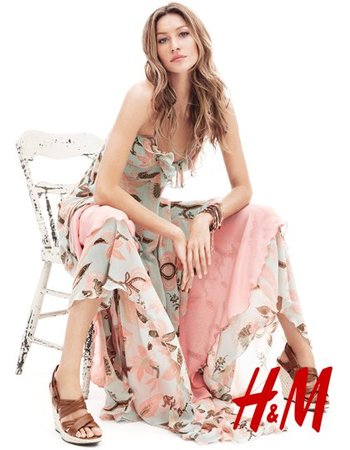 Bohemian Deluxe 2011 collection with Gisele Bundchen
The world number two fashion retailer after Spain's Inditex (ITX.MC) has been tight-lipped whether to push through price rises to customers, which other retailers aim to do.
"Value-for-money players such as H&M are likely to have a harder time offsetting rising sourcing costs with price increases than luxury goods dealers, because of differences in the nature of their customer bases," DnB NOR analyst Asgeir Birkeland, which has a "sell" rating on H&M, said in a note.
The global apparel sector is battling a spike in cotton prices and many firms have announced price hikes to compensate for cost inflation.
Following H&M's fiscal fourth-quarter report that disappointed investors, analysts have lowered their expectations for this year and next. H&M announced markdowns in the first quarter, indicating further margin squeeze.
Such worries have led the share price to fall 17 percent from a record 261 crowns in September to 216 crowns on Tuesday.
Meanwhile, Inditex is down 3 percent, and the European retail sector index .SXRP 11 percent.
Dented also by increased marketing costs, pretax profit for the December-February period is seen at 3.84 billion crowns ($603 million) in a Reuters poll of analysts. The gross margin is seen at 58.3 percent, down from 61.9 percent a year earlier.
H&M is also harder hit by rising labor costs in Asia, where it buys more goods than some competitors such as Inditex which last week posted strong trading, driven by aggressive expansion into developing markets.
The rival's report boosted not only shares in Inditex, with flagship Zara, but also in H&M, although some analysts said the latter was exaggerated as most good news was company specific.
Carnegie analyst Niklas Ekman said H&M probably did less well in the quarter than Inditex. "H&M makes a bigger share of its purchases in Asia, they are more exposed to cotton and they have in 2010 cut prices," he said.
"We expect H&M's earnings growth to resume in Q4 and to accelerate in 2012," analysts at SEB, with a "buy" recommendation on H&M's shares, said in a note.
"We are still not factoring in any price increases in 2011; should H&M compensate for say half of our estimated inflation in cost of goods, we estimate that this could yield a 4-5 percent EBIT upgrade," they said.
Consumer confidence in Europe, which is where H&M generates the bulk of revenues, is fragile amid austerity measures and stubbornly high unemployment despite growing signs of global economic recovery.
H&M's quarterly net sales are seen at 25.0 billion crowns, only marginally up from a year earlier, also hit by bad shopping weather in December and negative currency effects.
Analysts expect sales at established stores to rise 2 percent in February. In March, for which H&M will also report sales, analysts see a 2 percent fall.
"H&M has reported surprisingly weak sales in the past five months. Will February and March be better? I unfortunately don't think so, and neither does the market," Carnegie's Ekman said.
($1=.7084 Euro)
($1=6.373 Swedish Crown)
(Reporting by Anna Ringstrom and Mattias Lovkvist; Editing by Jon Loades-Carter)
© Thomson Reuters 2023 All rights reserved.