H&M sales fall less than feared as ASOS eyes abroad
By James Davey and Adam Cox
LONDON/STOCKHOLM (Reuters) - Swedish fashion group Hennes & Mauritz posted a shallower-than-expected fall in October underlying sales on Monday, raising hopes its focus on low-cost clothing would shield it from a consumer downturn.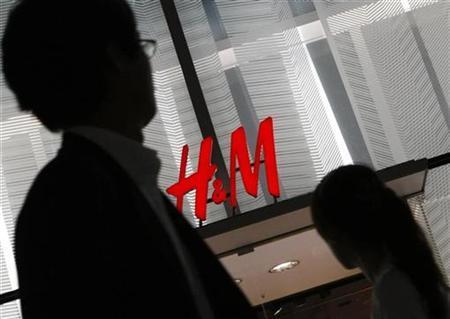 H&M, Europe's second-biggest clothing retailer behind Spain's Inditex, said sales at stores open at least a year fell 2 percent in October compared with the same time last year, the third consecutive monthly decline.
The average forecast in a Reuters poll of 10 analysts was for a 2.8 percent drop, with estimates ranging from a 5 percent fall to a 2 percent rise.
H&M's sales update came as small but fast-growing online fashion firm ASOS said it was defying the consumer downturn and planning to expand abroad.
ASOS, which posted a 68 percent rise in first-half profit, said Finance Director Jon Kamaluddin would become its international director and it planned to launch local language websites, though it didn't say where or when.
At 9:25 a.m. British time, H&M shares were up 3.6 percent at 262 Swedish crowns, outperforming a 0.3 percent fall on the DJ Stoxx European retail index. ASOS was up 7 percent at 275 pence.
Consumers across the world are curbing spending following steep rises in food and energy costs and after a crisis in financial markets has plunged large parts of the developed world into recession. U.S. retail sales fell a record 2.8 percent in October.
"We would not expect huge changes to profit forecasts for the current year with one month to go," Credit Suisse analysts said of the H&M sales update.
"But we would also expect a more conservative view to develop on 2008/09 forecasts."
H&M shares have beaten the DJ Stoxx European retail index by 12 percent this year, with the group's focus on low-price fashions and geographic spread raising hopes that it will be more resilient to the downturn than many.
Mid-market rivals Marks & Spencer and Next, for example, have suffered much steeper falls in underlying sales.
But H&M, which in September missed third-quarter profit forecasts, is not without its problems.
Germany, its largest market, said last week that it fell into recession in the third quarter. The group could also be hit by the recent rise in the U.S. dollar, in which it buys most of its goods, as well as rising labour costs in Asia.
A company spokesman said H&M sources about two-thirds of its items from Asia.
"The combination of a recent material earnings miss, a weakening European consumer base, adverse dollar/euro exposure in 2009, and growing input cost pressures is likely to limit both H&M's medium-term earnings growth forecast and the group's valuation multiple," Citi analysts said.
H&M shares trade at 13.8 times forecast earnings per share, above Inditex on 11.7, which has suffered from its exposure to the particularly weak Spanish market.
ONLINE CHALLENGE
ASOS, which targets Internet-savvy 18 to 34 year olds looking to emulate the designer looks of celebrities such as Kate Moss, Paris Hilton and Victoria Beckham, reported a 68 percent rise in first-half pretax profit to 4.1 million pounds.
Sales leapt 107 percent in the six months to September 30 to 65.7 million pounds and were up 104 percent in the seven weeks to November 7.
"So far ASOS is proving resilient to the slowdown in consumer spending," it said in a statement.
"We view the coming months with cautious optimism."
ASOS Chief Executive Nick Robertson told Reuters he had high hopes for the group's international expansion.
"We think that's the biggest single driver of growth going forward," he said, adding it was realistic to think the group could achieve annual turnover of 1 billion pounds in 10 years.
ASOS shares, which had more than tripled in value in the 12 months to September, have fallen back steeply since then amid fears online spending would not be immune to the downturn.
"The stock, after declining by almost 30 percent in the last quarter, is now more fairly valued at 20.2 times earnings based on our pretax profit forecast of 14 million pounds for the current year (to end-March 2009)," said Seymour Pierce analyst Freddie George.
(Writing by Mark Potter, editing by Will Waterman)
© Thomson Reuters 2023 All rights reserved.