H&M hit by cotton costs and currencies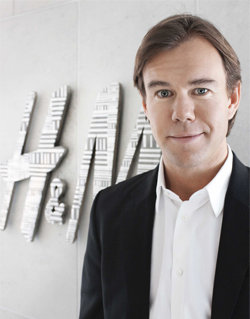 Karl-Johan Persson
Mar 31- Hennes & Mauritz, the world's No.2 fashion retailer, missed first-quarter profit and sales forecasts, raising doubts over its strategy of holding prices despite rising cotton costs and currency headwinds.
Shares in the Swedish budget clothing chain fell after it posted a 30 percent dive in pretax profit to 3.54 billion crowns (350.2 million pounds) for the three months ended February.
That was the third quarter in a row it missed forecasts, which this time were pitched at 3.84 billion crowns.
H&M, which lags Spain's Inditex by annual sales, said the drop was mainly due to its decision not to pass on surging cotton costs and negative currency effects to shoppers.
"Instead of passing on these cost increases to customers, we chose to strengthen our price position in order to build further on our strong market position for the long term," Chief Executive Karl-Johan Persson said.
Persson declined to comment on pricing plans for the year but analysts expect H&M, wary of its value-for-money image, to choose to continue to take a temporary margin hit, unlike other apparel firms which aim to pass the costs on to customers.
Persson told a news conference H&M took market share in the quarter. However, H&M reported broadly flat sales at 24.5 billion crowns, just below forecasts, and a weaker-than-expected 3 percent rise in local currency sales for March 1-29.
Liberum Capital analyst Simon Irwin said this raised question marks over the pricing strategy. "H&M is taking a very large gamble to re-adjust its pricing and commercial proposition at a very difficult time for the industry," he said.
"The near term pain from this is clear in results, however there is little evidence that it is working in terms of driving customer perceptions or driving sales."
COTTON COSTS
Clothing retailers across the world are battling a surge in cotton prices driven by supply shortages after many farmers switched to other crops in recent years.
H&M's Persson told the news conference that rivals were hiking prices. Britain's Next said last week its average prices were up 6 percent so far this year and it expected increases of 8-10 percent in the second half.
Inditex, which owns the Zara brand, said last week it was coping with the pain thanks to a rapid expansion in fast-growing developing markets such as India and China.
While H&M has around 2,200 stores across 38 markets, it makes the bulk of its revenue in weaker European markets.
Data on Thursday showed an unexpected fall in February retail sales in Germany, H&M's biggest market.
Unlike Inditex, H&M buys most of its goods in Asia, where labour costs have been soaring. It also faces stiff competition from discounters such as Primark and TK Maxx.
Sydbank analyst Soren Hansen was disappointed by a larger drop than expected drop in H&M's gross margin to 57.8 percent from 61.9, but he thought its strategy was the right one:"They should be able to take market share in the long term."
SG Securities' Anne Critchlow remains to be convinced.
"The worry is they're taking the pain on profits and margins to be more competitive but we're not yet seeing a benefit to sales," she said, adding stock levels were also a concern.
H&M shares have performed broadly in line with the STOXX Europe 600 retail index this year but have underperformed Inditex by 8 percent.
At 11:58 a.m., they were down 3.3 percent at 209.4 crowns, the biggest fall by a European blue-chip stock. Inditex was down 0.5 percent while Britain's Marks & Spencer, which publishes a trading update on Wednesday, was off 1.1 percent.
Persson said H&M is braced for headwinds from cotton prices throughout the year, but has no plans to slash its use of cotton unless customers were to demand more of other materials.
Benchmark U.S. cotton was valued at $1.94 a lb on Thursday but are falling from record highs earlier this month.

By Anna Ringstrom and Mattias Lovkvist
(Additional reporting by Mark Potter and Richard Mably in London; Editing by Hans Peters and Mike Nesbit)
© Thomson Reuters 2022 All rights reserved.