H&M fights against Inditex for its Galician territory
On April 14th, launch date of the new shopping centre, the two giants of the fashion industry are going to find themselves in direct confrontation on the lands of the Spanish group. Although H&M is already well-established in the region and in Spain as a whole, where it operates over 120 stores, it seems like the competition is going to be a lot fiercer at Marineda City de La Corogone.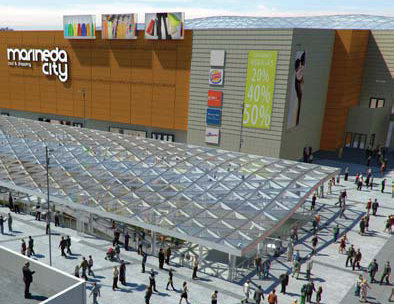 Marineda City's launch date is set for April 14th - Photo DR
In fact, while
Inditex
marks its presence with a 2,871 m2 boutique dedicated to
Zara
, its Swedish rival will be opening the doors of its own store, covering an area of 2,198 m2. However, Inditex can also count on its other brands
Stradivarius
,
Massimo Dutti
,
Oysho
, Berskha, Pull & Bear, who will also occupy a space in the new shopping centre. Other brands sharing Marineda City's 197,000 square metres of retail space are
El Corte Inglès
(45,000 m²),
Benetton
(1 089 m²),
C&A
(2,264 m²) and
Primark
(5,150 m²). An investment of 450 million euros was needed in order to build the new property, which expects to see around 15 million visitors per year once it opens in April.
Copyright © 2023 FashionNetwork.com All rights reserved.