H&M falls short as cotton and price cuts hit margins
Jan 27 - Hennes & Mauritz AB, the world's No.3 fashion retailer, posted a surprise fall in quarterly profit on Thursday, squeezed between higher costs of raw materials like cotton and price cuts to stay competitive.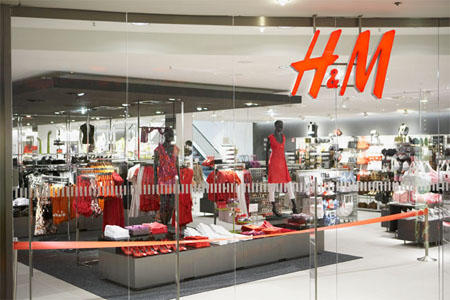 H&M in Hamburg (photo by H&M)
Its shares slid 6.12 percent to 214.70 crowns by 0821 GMT, having fallen as low as 212.90 crowns, their lowest since July.
The Swedish budget fashion chain, whose fiercest rival is Spain's
Inditex
, owner of the
Zara
brand, said markdowns would continue as it battles to maintain market share.
The weak fourth-quarter results add to concerns that rising prices of raw materials such as cotton -- which hit record highs this week on supply concerns -- will have a significant negative impact particularly on budget clothing chains.
Retailers around the world worry whether they can pass on rising costs to customers at a time households are being hit by austerity measures from governments trying to rein in deficits.
British discount fashion chain
Primark
(part of AB Foods) warned last week that soaring cotton prices would hit margins, while mid-market rivals such as Next are hiking prices to offset higher costs.
Quarterly pretax profit at
H&M
, the world's third-biggest clothing retailer by sales, fell to 7.18 billion crowns ($1.1 billion) from 7.99 billion in its fourth quarter, against a consensus 8.17 billion forecast.
Gross margin shrank slightly more than expected to 63.2 percent from a year-earlier 66.3 percent. The mean forecast was 63.7 percent in a Reuters poll of analysts.
NEGATIVE EFFECT
"The factors affecting (the quarter) were less spare capacity at the suppliers, higher transportation costs and significantly higher raw material prices," H&M said, noting cotton had almost doubled in 2010.
"Increased investments in the customer offering in order to strengthen H&M's market position also had a negative effect on the gross margin," it said, adding markdowns in the quarter were at the same level as a year earlier.
"The company estimates that markdowns in relation to sales during the first quarter of 2011 will be on the same level as in the first quarter 2010," it added.
SG Securities analyst Anne Critchlow said: "It does beg the question what the gross margin is going to be like next year (fiscal 2010-11). The answer is worse than consensus.
"Current trading looks fairly lacklustre," Critchlow added, noting sales data for December and January looked fairly weak against a reviving economy in Germany, H&M's biggest market.
H&M shares have outshone the STOXX Europe 600 retail index over the past year, but their outperformance has declined in recent months amid fears its margins will suffer due to the soaring price of cotton and rising labour costs in Asia, where it buys most of its goods.
H&M said it plans to open around 250 new stores net in 2010/11, having in September cut its expansion plans for 2009/10 to 220 from 240 stores due to a halt on construction of shopping malls in southern Europe.
H&M said sales in December, the first month of its fiscal year, rose 8 percent in local currencies, but like-for-like sales were unchanged. In Jan. 1 to 25, sales were up 9 percent.
Sydbank analyst Soren Lontoft Hansen said the report was disappointing but the new expansion target was positive.
He was also upbeat about the launch of online sales in the United States. "They will probably increase their prices (this year) but I don't see that they will do that in the same way as the rest of the fashion sector."
H&M said it would pay a dividend of 9.50 crowns per share for 2010, above a forecast 9.35 crowns.
By Anna Ringstrom
(Additional reporting by Mark Potter and Rebecka Roos; Editing by David Holmes)
© Thomson Reuters 2023 All rights reserved.