H&M chief sees better year in 2010
By Allyn Fisher-Ilan
TEL AVIV, March 10 (Reuters) - Fashion retailer Hennes & Mauritz AB (H&M) (HMb.ST) has started 2010 in a "good financial position" and the year could prove better than last, albeit still challenging globally, its chief executive told Reuters.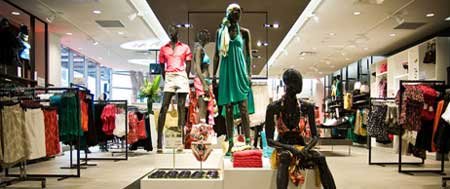 H&M
Karl-Johan Persson
, in Israel for the launch of the first of seven planned outlets in the country, said on Wednesday 10 March the Sweden-based company had already seen a boost in sales this year.
Persson noted total group sales in January were 11 percent higher than a year ago, as the company reported last month, but said it was too soon to predict figures for the first quarter of 2010, although he was optimistic despite the global economic situation.
"There's a good start to the year," Persson said, adding: "It's very hard to say what will happen in the economy. I think that 2010 will be a challenging year. My guess is it will be somewhat better than 2009."
Persson said H&M, with hundreds of outlets globally and plans to open 240 more this year, may profit from the recession as many shoppers seek more affordable fashion.
"I think people are looking more for good prices in a recession and it is exactly what we offer, so it's a good opportunity for us to increase market share," Persson said.
"We have a good financial position, but also during the recession other opportunities come up. It's one of the few advantages for the recession," he added.
The company, which faces stiff competition from retailers such as U.S. group Gap Inc (GPS.N) and Spain's Inditex (ITX.MC), parent of the Zara chain, has weathered the downturn better than some rivals thanks to its geographic spread and low-price profile.
H&M, the world's third-biggest clothing retailer, is opening in Israel as it is "a country with a lot of fashion conscious people" where Persson said he had been told there is "huge" demand for the company's offerings.
The planned opening of the first stores in Tel Aviv and Jerusalem initially caused a stir locally since they will occupy the sites of movie theatres, which were forced to close.
Persson noted a petition on the social networking site Facebook, launched by an Israeli woman who urged the company to open a store in Israel, as an indicator it could succeed.
In addition to the shops in Tel Aviv and Jerusalem, five more are planned this year and next in the cities of Haifa, Petach Tikvah, Rehovoth, Netanya and Kfar Saba, he said.
(Editing by Steven Scheer and David Holmes)
© Thomson Reuters 2023 All rights reserved.