Gianfranco Ferre defies crisis with major revamp
MILAN (Reuters) - Italian fashion house Gianfranco Ferre has enough cash to stage fashion shows, launch a shoe and handbag line and roll-out a new logo despite being in administration and hit by the downturn, its CEO said.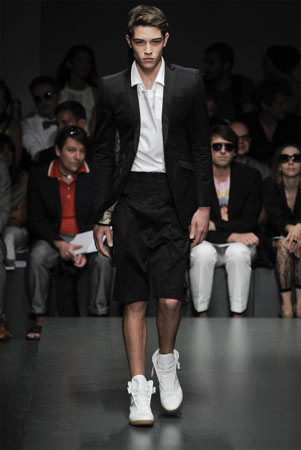 Gianfranco Ferre spring-summer 2010 in Milan - Photo: PixelFormula
It also believes the worst of the crisis is now behind it and is pushing ahead with expansion plans while waiting for a buyer to show its hand, or to sign a new deal with creditors.
"I think the luxury business has been through the worst, it has hit the bottom," Gianfranco Ferre Chief Executive Michela Piva told Reuters in an interview at the company's headquarters in Milan.
The Italian fashion house, known for its architectural silhouettes and sensual dresses, is owned by the Milan-listed Italian group
IT Holding
(ITH.MI), which went into administration in February after running out of cash.
Since then, IT Holding has been run by a triumvirate of government-appointed commissioners who have until November 10 to reveal their plans for the group.
Gianfranco Ferre, who founded his eponymous fashion house in 1978, kept his own line in Italy while he worked as Christian
Dior
's creative director for seven years, starting in 1989.
Now, two years after his death in 2007, Piva said it was time for the brand to re-invent itself. It would unveil a new logo this month called Ferre's "signature pin," inspired by the late designer's trademark safety pins dangling from his tie.
"If the Medusa is the symbol of
Versace
, we found a new symbol for Gianfranco Ferre brand and we will be testing it with the 2009 fall/winter collection," Piva said.
She said Ferre was expanding into accessories, including suitcases, an area that had "biggest potential for growth", and it would hold a show in Milan at fashion week later this month.
Piva, Ferre's chief executive since 2007, did not wish to divulge the company's budget, but said she was not feeling constrained by its status as a company in administration.
To launch Ferre's new pin logo, the company has invested in seven-page advertisements in glossy magazines, which go up to 12 pages in the United States.
"Clearly, they did not give us money and said do what you want to do with it. I have to work within a budget but we have money to do a show on the 25th, buy fabrics, make good products and deliver them on time" she said.
In contrast, at Paris fashion week in July,
Christian Lacroix
, also in administration, had to make do with a very small fashion show, stitched together with the help of friends who worked for free, raising fears it could be his last.
BACK IN THE UNITED STATES
This summer, Ferre also resumed deliveries to U.S. department stores after a one-year lull. "People's attitude (at U.S. department stores) is different from a year ago," Piva said. "They are ready to add new lines ... and this is a positive sign."
Piva said the company had started shipping goods to
Bergdorf Goodman
and
Neiman Marcus
.
As of August 15, it had sold 58 percent of its 2009 winter/fall pre-collection at full price in the United States.
Previously, she said Ferre sold 55 percent of its 2009 spring/summer collection at full price, which she described as a good result. However, in good times, designers usually sell up to 75 percent of their collection at full price.
Piva declined to give the sales growth target for the years to come, but said they had reached about 130 million euros ($188.5 million) on a pro forma basis in 2008.
In 2000, Gianfranco Ferre sold 90 percent of his company to Gruppo Tonino Perna, the parent company of the Italian fashion group IT Holding, for a sum estimated by analysts to be between $150 million and $175 million.
SURVIVING THE FOUNDER
Piva said Ferre's troubles began when its founder died, and the company was a good example of how hard it was for a fashion house to survive the passing of its designer.
Several brands have succeeded, such as Yves Saint Laurent and Dior, but others, such as
Valentino
, have struggled.
Alessandra Facchinetti
, who succeeded
Valentino Garavani
at Valentino on his retirement in January 2008, lasted less than a year before leaving, "embittered".
Lars Nilsson, who came in after Ferre's death, lasted only five months. He was replaced in April 2008 by designers Tommaso Aquilano and Roberto Rimondi.
"The difficulties of our brand started two years ago when Mr Ferre died," Piva said.
Piva said the company was looking to infuse new life into the brand while retaining Ferre's heritage. "At this point, we are looking at a woman who still wants structure but also who wants to be feminine, elegant and less flashy," she said.
Ferre, which designed the official off-field uniform for Rome-based soccer club SS Lazio for the upcoming 2009-2010 soccer season, said it was in talks about another sponsorship deal, possibly in another sport.
(By Astrid Wendlandt and Marie-Louise Gumuchian. Editing by Rupert Winchester)
© Thomson Reuters 2023 All rights reserved.