Gap slashes outlook, cites tougher cost inflation
Clothing maker and retailer Gap Inc slashed its full-year profit outlook, saying higher price tags will not be enough to offset rising cotton costs, and its shares fell more than 15 percent.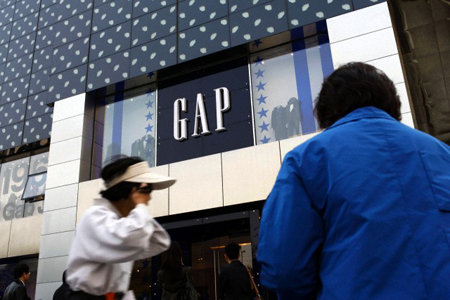 Gap store in Shanghai
Gap, which operates the Gap,
Old Navy
and
Banana Republic
brands, said on Thursday that product costs, primarily cotton, should rise about 20 percent later this year compared to a year earlier and "more than outweigh retail price increases."
Chief Executive
Glenn Murphy
told analysts on a conference call that vendors were not as accommodating as hoped for as Gap has ordered merchandise for the fall and holiday season.
"We are disappointed in the numbers they're quoting back to us," Murphy said, faulting Gap for not being "aggressive" enough in negotiating with vendors in recent years.
U.S. cotton futures soared nearly 65 percent in 2010, and have risen another 20 percent so far this year, squeezing many retailers, especially those whose shoppers are more price conscious, and those like Gap, which sell T-shirts and jeans.
However, prices have come down in recent weeks amid a broader commodities sell-off.
Teen clothing chain Aeropostale Inc also gave a disappointing profit forecast, citing cotton costs and the need to offer shoppers big discounts.
Gap said the pressure is even more acute at its less expensive stores, such as Old Navy and its outlet stores.
One analyst said Gap is exposed to rising cotton prices because it has trained its shoppers to expect deals.
"They've been relying on promotions to draw people into stores," said Christin Chen, an analyst with Needham & Co.
Gap is battling a slew of rivals, including American Eagle Outfitters Inc, on its home turf while fending off Spanish retailer Inditex's
Zara
chain and Sweden's H&M abroad. Last year, Zara overtook Gap in global sales.
In recent months, Gap has shaken up senior management in a bid to revitalize the Gap brand. Two weeks ago, the head of its design team left, and in February, the company replaced the head of Gap North America after Chief Executive Murphy lost patience with the slow pace of the turnaround of the Gap chain.
Gap now expects to earn $1.40 to $1.50 per share in the fiscal year ending in January 2012, down from the $1.88 to $1.93 it forecast in February.
Net income in Gap's first quarter, which ended on April 30, fell 22.8 percent to $233 million, or 40 cents per share, from $302 million, or 45 cents per share, a year earlier, prompting Murphy to say he was "disappointed." That beat analyst estimates by a penny, according to Thomson Reuters I/B/E/S.
SEEKING SOLACE OVERSEAS
As previously reported, net sales fell 1 percent to $3.3 billion, while sales at stores open at least a year were down 3 percent. Without its rising online sales, that decline would have been 5 percent.
Shifting tastes and stiff competition have been pinching Gap's sales for years. In 2010, net sales were $14.66 billion, up from a year earlier but still 9.9 percent below their 2004 peak. Cost-cutting has allowed the company to stay profitable.
But in addition to more expensive cotton, rising wages in the countries where its clothes are made and gas prices are also putting pressure on its gross margin.
Gap makes about 27 percent of what it sells in China, where rising labor costs are also squeezing many manufacturers' margins.
Coach
Inc, for instance, is planning to shift much of its China production to lower cost countries such as India and Vietnam by 2015.
"There is wage pressure there, no doubt about it," Murphy told analysts.
Gap also said in a regulatory filing in March that rising fuel costs would further pinch margins.
Same-store sales fell at all three of its chains in North America, where it gets three-quarters of its sales. In the year-ago quarter, same-store sales at all three chains rose.
Overseas, same-store sales fell 6 percent, even as Gap has pinned its growth strategy on expanding outside North America.
One bright spot was its overseas franchise stores, where sales rose 43 percent in the quarter. It now operates 178 franchise stores abroad and is eyeing 400 by 2015.
Gap, which operates about 3,250 stores, said its store count would rise by 75 this year, instead of 65 as planned earlier.
Gap shares fell 15.2 percent to $19.74 after the earnings report from their close of $23.29 on the New York Stock Exchange on Thursday.
(Reporting by Phil Wahba; Additional reporting by Jessica Wohl in Chicago. Editing by Richard Chang, Gary Hill)
© Thomson Reuters 2021 All rights reserved.