Gap bets on discounts to draw holiday shoppers
Gap Inc (GPS.N) said it plans to "compete aggressively" on discounts to attract shoppers in the crucial holiday season as the no. 1 U.S. clothes retailer continues to look for ways wrestle back market share from its peers.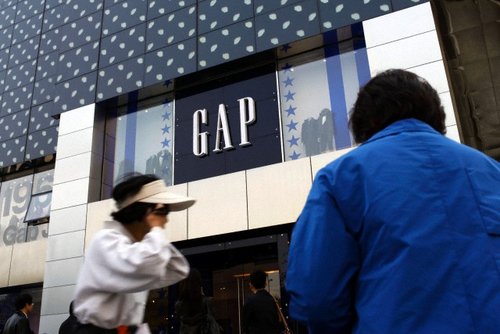 Pedestrians walk pass the GAP flagship store in Shanghai, China on 01 April 2011 / Photo: Corbis
The retailer, which competes with more affordable and fashionable foreign players like Zara owner Inditex (ITX.MC), Uniqlo parent Fast Retailing (9983.T) and Hennes & Mauritz (HMb.ST), is trying to keep pace with fashion trends by revamping its stores and merchandise, but without much success so far.
"(Unlike) 10-15 years ago, there are newer competitors and many more players in the apparel market...chipping away share from Gap which tries to retail across the age & gender space," Rahul Sharma, managing director of investment management firm Neev Capital.
The company, valued at about $10 billion, sells its products in over 90 countries worldwide through about 3,100 company-operated stores, about 200 franchise stores, and e-commerce sites.
"Gap's overall problem is that it is too big to grow consistently. Each time you see a burst of growth for a while on product & marketing news, (but) then it slumps back again," said Sharma.
Its namesake stores, which make up nearly a quarter of overall sales, lost their once magnetic appeal as they strayed from what they was best known for -- high-quality jeans and casual clothes with an American aesthetic -- something the company is trying to go back to.
"I'd like to think that when people go to stores in December, they will start seeing beginning of some changes to the business when it comes to its aesthetic, in terms of the quality of the product, in terms of the acceptance of color," Chief Executive Glenn Murphy said on a conference call with analysts.
PROFIT SINKS
For the third quarter ended Oct 29, the company, which also authorized a share repurchase program for $500 million, earned $193 million, or 38 cents a share, compared with $303 million, or 48 cents last year.
"The reason why the quarter turned out to be ok was on big share repurchases," Sharma said.
"Clearly, the real thing to get this going needs to be sales. Inventory is up 8 percent while sales are down 2 ... suggests more margin pressure is on the way," he said.
On a conference call with analysts, the company said it expects margins to stay pressured. For the quarter, gross margins dropped 450 basis points.
Sales at the San Francisco-based retailer -- which recently outlined plans to revamp its namesake stores -- fell 2 percent to $3.59 billion. Sales at its namesake stores, which make up nearly a quarter of overall sales, fell 3 percent.
Analysts, on average, were expecting the company to earn 36 cents a share, on revenue of $3.61 billion, according to Thomson Reuters I/B/E/S.
Gap, which also owns the Old Navy and Banana Republic chains, is betting heavily on international expansion as domestic sales wane.
The company is seeing intense rivalry at its domestic market from rival Uniqlo, which is eyeing about 200 U.S. stores by 2020, up from three.
In the third quarter, it saw franchise sales rise 47 percent as it opened stores in Chile, Poland, Serbia, and Vietnam.
Gap shares were more or less flat at $19.25 on Thursday after the bell. They closed at $19.24 on Thursday on the New York Stock Exchange.
(Reporting by Nivedita Bhattacharjee in Bangalore; Editing by Viraj Nair)
© Thomson Reuters 2023 All rights reserved.