Fast Retailing CEO: sticking to Uniqlo Japan
TOKYO - Fast Retailing Co (9983.T), Asia's largest apparel retailer, is sticking to its Uniqlo sales target in Japan, despite a weak start to the fiscal year due to a lack of new products and warm autumn weather, its top executive said.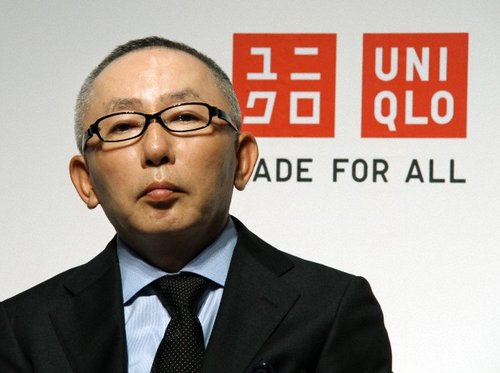 Chairman and Chief Executive Tadashi Yanai / Photo: Corbis
Chairman and Chief Executive Tadashi Yanai told Reuters in an interview on Tuesday that the firm had shrunk the product lineup too deeply at its Uniqlo casual-clothing chain as it focused on core products such as its HeatTech thermal underwear and down jackets.
"We tightened our product offerings too much and it backfired in the first-half of the season," the 62-year-old executive said, adding that warm fall weather had hurt sales of winter items.
"I think since there weren't any new products, especially at the start of the season, (customers) thought there wasn't really any reason to come to Uniqlo," Yanai said.
Sales at Uniqlo outlets open more than 12 months fell nearly 11 percent in September and 4 percent in October from year-earlier levels.
For the fiscal year ending in August 2012, Fast Retailing, which gets more than 70 percent of its sales from Uniqlo Japan, is projecting a 5 percent year-on-year rise in same-store stores of the casual clothing chain.
GOING OVERSEAS
Fast Retailing plans to ramp up overseas openings of its Uniqlo stores to 200-300 shops and sees the potential for a total of 4,000 Uniqlo outlets by 2020, with sales from Uniqlo abroad set to surpass domestic sales in 2015.
The clothing seller is looking to generate sales of 5 trillion yen ($64 billion) by 2020, over two-thirds of which is expected to be from Asia, where markets are less concentrated and have high growth potential. It has projected sales of 965 billion yen for its fiscal year that ends in August 2012.
Yanai, who owns over a fifth of Fast Retailing, added he would also build scale in Europe and the United States, before looking to move into new regions such as Africa, the Middle East and South America.
Yanai, ranked by Forbes magazine as Japan's second-richest man, said acquisitions would be the easiest way to grab large scale overseas.
"If there is chance for acquisitions in Europe or the United States, we'd like to do it," Yanai said. "(Targets would be limited to) firms that could be used as a platform for Uniqlo."
Fast Retailing, whose rivals include Spain's
Inditex
(ITX.MC), Sweden's Hennes & Mauritz (
H&M
) (HMb.ST), and U.S.-based
Gap
(GPS.N), is also planning to keep 80 percent of its production in China, with the remaining 20 percent in Southeast Asia.
The company is projecting an operating profit of 135.5 billion yen for its business year that ends in August 2012. If it hits the estimate, it would mark the third time in the last four years it has achieved a record profit.
($1 = 78.030 Japanese Yen)
By James Topham and Ritsuko Shimizu
(Editing by Chris Gallagher and Joseph Radford)
© Thomson Reuters 2022 All rights reserved.