Esprit's H1 net slightly misses estimates
Feb 10 - Europe-focused Esprit Holdings, Asia's No. 3 apparel retailer by market value, slightly missed analysts' first-half net profit forecasts but said it would continue to increase its retail selling space.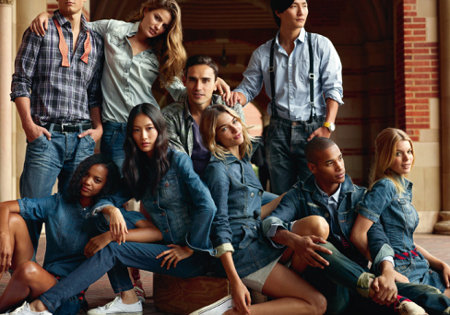 Esprit Casual Spring/ Summer 2011 campaign
The fashion group said it planned to set aside HK$1.3 billion in capital expenditures in the fiscal second half, of which HK$600 million will be used for new store openings and refurbishment of existing stores and about 70 new directly managed stores are planned to be opened.
"A weak performance was expected in the wake of a weak market in Europe. Going forward, how much capital expenditure it will need for expanding its network is a concern," said Nelson Lee, a fund manager at First Shanghai Asset Management.
The company said it aims to increase retail selling space by 5 to 10 percent for the full year.
"Although we see signs of improvement, our wholesale business continues to be impacted by cautious consumer sentiment and spending in our core markets," the company said in a filing with the Hong Kong bourse.
Esprit also said Heinz Jurgen Krogner-Kornalik had resigned as the non-executive chairman of the board, effective from Feb 11, to be replaced by Hans-Joachim Korber, a non-executive director of the company.
The company said its wholesale customers remain conservative with their pre-orders, and the wholesale order book for the period between January and May 2011 shows a low single-digit percentage decline.
"Increases in raw materials prices and labour costs will pose pressures on our cost of goods sold. With the implementation of our sourcing initiatives, we are confident that at least part of the costs will be compensated in the short-term," it added.
Revenue from its retail business rose 8.7 percent in local currency during the six months period, while turnover from wholesale was down 6.2 percent from a year earlier.
Retail sales growth was mainly driven by the retail turnover contribution from China and retail space expansion.
Excluding China, retail turnover growth was largely flat in local currency terms, and comparable store sales declined by 1.6 percent during the first half.
Esprit, whose competitors include Swedish clothing retailer Hennes & Mauritz AB, U.S. group GAP Inc and Spain's
Inditex
SA, posted a net profit of HK$2.14 billion ($275 million) for the six months ended December 2010.
The result lagged an average estimate of HK$2.16 billion from five analysts polled by Reuters, and was down 21 percent from HK$2.71 billion a year earlier.
Esprit shares, which fell 12.8 percent in the six-month period under review, had fallen 2.6 percent as of the midsession break on Thursday compared with a 0.73 percent fall in the Hang Seng Index.
Esprit, which is also facing competition from Japan's
Uniqlo
casual-clothing chain operator
Fast Retailing
, said its turnover grew 5.9 percent in local currency term in the second quarter ending in December.
Wholesale turnover grew 3.2 percent in local currency terms in the second quarter while retail turnover growth softened due to adverse weather conditions in Europe and North America in December 2010.
Last month, world No.3 fashion retailer Hennes & Mauritz posted a surprise fall in profit and warned of a tightening squeeze between rising raw material costs and in-store markdowns used to stay competitive.
The weak fourth-quarter results add to concerns that rising prices of raw materials such as cotton will especially harm budget clothing chains.
By Donny Kwok
(Additional reporting by Michelle Chen; Editing by Ken Wills)
© Thomson Reuters 2023 All rights reserved.