Esprit full year net dives, shares at lowest since 2003
HONG KONG, Sept 15 (Reuters) - Europe-focused retailer Esprit Holdings said it decided to sell its North American operations, after posting a worse-than-expected 98 percent drop in full-year profit that sent its shares down more than 15 percent.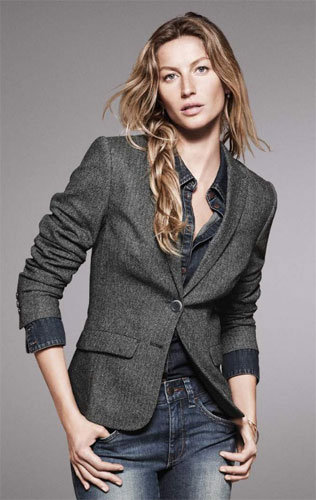 Gisele Bündchen for Esprit - October collection 2011
Asia's No.6 apparel and accessories retailer by market value said on Thursday it would exit from retail operations in Spain, Denmark and Sweden.
Esprit, whose competitors include Swedish clothing retailer Hennes & Mauritz AB (HMb.ST), U.S. group GAP Inc and Spain's
Inditex
SA , is also facing rising raw materials costs.
"We anticipate a challenging wholesale trading environment at least in the first half of the new financial year," the company said in a statement.
Shares of the company fell more than 15 percent to HK$15.5 in late afternoon trade on Thursday, its lowest since May 2003.
"In this market, investors are going to punish any small mistake. It is very difficult for investors to stomach this kind of losses," said Hong Hao, a global strategist with CICC in Beijing.
"It is in the wrong place at the wrong time, they have some very specific issues...in Europe and North America, places where consumer discretionary names are being hit most," he added.
The stock had fallen more than 50 percent so far this year, compared with an about 17 percent fall by the Hang Seng Index .
Esprit said its transformation plan for 2014/15 is expected to give the brand back its shine and recover its profitability.
It said the wholesale order book between July and December 2011 showed a mid-single digit percentage year-on-year decline in local currency.
Turnover for FY11/12 is expected to decline 3-5 percent in local currency terms due to the divestment of the North American operations and the store closures programme.
Esprit said it will invest in the opening of more than 200 new franchise stores, not including in China, until FY14/15.
The total investment in the wholesale business is expected to be about HK$3.9 billion.
"In terms of the distribution network, we plan to grow controlled wholesale space by around 5 percent year-on-year, mainly via franchise with a stronger emphasis on China and Germany," it said.
Esprit said it plans to strengthen its European business in German speaking DACH-countries, Benelux and France.
Excluding the impact of exceptional store closures and the divestment of operations in North America, Esprit expects to achieve 5-10 percent year-on-year full year retail space growth in FY11/12.
Esprit also plans to expand its e-shop platform coverage to include China in the second half of the new financial year.
In Asia, Esprit said it will concentrate its expansion in the growth markets of Taiwan, Singapore, Malaysia and China.
In China, turnover is expected to double over the next four years to around HK$6 billion, with the store network increasing from about 1,000 to 1,900 points of sale.
Europe generated about HK$26.7 billion in sales, or 79.1 percent of Esprit's total for its fiscal year through June 2011, down 83.1 percent from a year ago.
Asia Pacific, including China, accounted for 17.2 percent at HK$5.81 billion, and North America accounted for 3.7 percent at HK$1.23 billion.
Esprit, which competes with Japan's
Fast Retailing
Co in Asia, said it would invest over HK$18 billion in the company until FY14/15, of which HK$7 billion will be long-term investment and HK$11.5 billion will go to business operations.
The planned total capital expenditure in FY11/12 amounts to HK$1.5 billion, Esprit said.
Fast Retailing, Asia's largest clothing retailer and the operator of the
Uniqlo
casual clothing store chain, had projected a "much, much brighter" year ahead, citing a boost from back-to-basics products and its overseas expansion as it seeks to become the world's top clothing retailer by 2020.
EARNINGS LAG FORECAST

Esprit posted a 98 percent fall in full-year net profit on Thursday to HK$79 million ($10.1 million) for the year ended June, missing analyst forecasts, as one-off restructuring costs hit.
The result was far short of an average estimate of HK$3.16 billion from 16 analysts polled by Thomson Reuters I/B/E/S, and lower than a net profit of HK$4.23 billion a year earlier.
Esprit had said earlier that it was set to post a sharp drop in 2010/11 profit as a result of one-off costs related to restructuring. Esprit said its board had approved a strategic plan to restructure store operations.
Analysts expected Esprit's 2011/12 earnings could stay on a downward trend given ongoing industry-wide issues including input costs, weakening European economies and its own structural issues such as brand positioning and channel re-organization.
By Donny Kwok

(Additional reporting by Clement Tan and Alison Leung; Reporting by Donny Kwok and Rachel Lee; Editing by Ken Wills, Charlie Zhu and Editing by Vinu Pilakkott)
© Thomson Reuters 2023 All rights reserved.