Dior says show must go on despite Galliano sacking
March 2 - Christian Dior said on Wednesday it would go ahead with its John Galliano show, a highlight of Paris Fashion Week, despite having fired its star designer this week over an anti-Semitic outburst.

The fashion house opted to maintain a catwalk show that will be crucial for orders but industry watchers were not looking forward to the awkwardness of having to applaud the creations of a designer who could face trial for racist slurs and has been caught on video expressing his admiration for Hitler.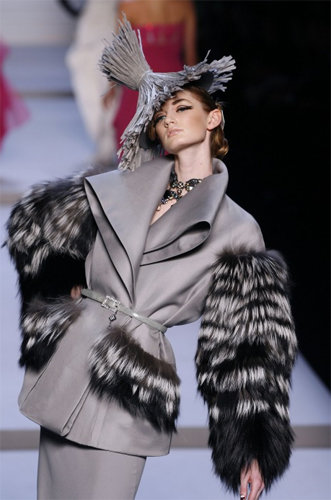 Piece designed by John Galliano for Christian Dior (photo by Pixel Formula)
Galliano was questioned by police on Monday over two separate complaints that he had hurled anti-Semitic insults at people in a Paris bar and an online video has since spread around the world showing him spewing abuse.
He was fired on Tuesday.
"The show is being maintained," a Dior spokeswoman told Reuters. "The invitations have been sent out and the seating has been done as usual. No one has informed us they are not planning to come."
The saga has cast a pall over Paris Fashion Week – a bi-annual event for ready-to-wear that draws thousands of fashionistas and critics from around the world, costs millions of euros and sets the year's trends across the industry.
"As far as the show is concerned this is slightly awkward," said Bernstein luxury goods analyst Luca Solca.
"In the end, I believe they will decide to separate the artist from the man, and go on with the show -- also out of respect for the many other people that worked on it."
DISCOMFORT IN THE FRONT ROW
Dior is one France's top fashion brands and is part of
LVMH
, the world's biggest luxury goods group.
Dior shares were down 1.34 percent at 103.25 euros and LVMH were down 1.99 percent at 113 euros in a weaker Paris market.
Chief Executive Sidney Toledano said on Tuesday the "odious nature" of Galliano's behaviour on the video led Dior to relieve him of his duties after 15 years as the label's chief designer.
"It is very sad for this to happen during fashion week. The only thing people will talk about is Galliano, when they are supposed to be focusing on the fashion," Susan Tabak, who runs a luxury lifestyle website, told Reuters.
Ready-to-wear catwalks are more crucial in terms of orders than the industry's more exclusive haute couture shows. Axeing Galliano's show would seriously disrupt Dior's operations as it could lose revenues from an entire collection.
Going ahead with it, however, means having to suffer the discomfort of showing off the designer's wares with an unpleasant elephant in the room.
Galliano, who through his lawyer has denied any misconduct, is expected to hear by the end of the week whether Paris prosecutors will make him face trial over the complaints.
His lawyer declined to make any comment on Wednesday.
Dior's fashion show is usually attended by
Bernard Arnault
, the founder and chief executive Dior's daughter company LVMH.
A string of celebrities, including Oscar-winning French actress Marion Cotillard, would normally be in the front row, but some may now feel uncomfortable being present.
Actress Natalie Portman, who has a deal to promote Miss Dior Cherie perfume, voiced her disgust with Galliano late on Monday in New York and said she wanted nothing more to do with him.
In Milan late on Tuesday,
Donatella Versace
told fashion reporters there was no justification for the insults but she doubted Galliano had meant to be racist.
Giorgio Armani
, also in Milan, said the episode must have been due to "a moment of weakness". "You can't expect exemplary behaviour from an eccentric man like him," he added.
By Astrid Wendlandt
(Editing by Catherine Bremer and Paul Casciato)
© Thomson Reuters 2023 All rights reserved.