Claudia Schiffer aims to create lasting fashion brand
July 7 - German supermodel Claudia Schiffer launched her first cashmere collection during Haute Couture fashion week in Paris with the hope of creating a lasting brand that she could pass on to her children.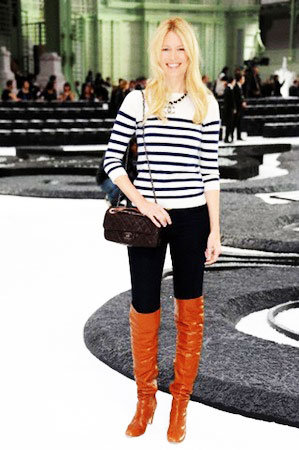 Claudia wishes to pursue her modeling career for as long as she can. - photo: corbis
The 40-year-old former
Chanel
muse said she has been thinking of getting into fashion design for years and had finally decided to start with the kinds of clothes she wore all the time as a working mom such as cashmere dresses and sweaters.
"I am always very busy, I have a family life... I want to wear the same outfit when I bring my children to school and then go to work with it and in the evening I want to be able to just change accessories," Schiffer told Reuters at the launch of the Claudia Schiffer clothing line in trendy Paris boutique
Colette
.
"Effortless chic. That is the idea of it," she added.
Schiffer's collection included long tube black and navy blue dresses, grey oversized cardigans and cable-knit sweaters costing from 250 to 500 euros ($360-$725).
Schiffer, who lives in Britain, is married to film producer Matthew Vaughn with whom she has three children.
While creating her brand was a "dream come true," the model acknowledged history was full of celebrities who had gone into fashion. For some, such as former Spice Girl Victoria Beckham, the venture has been a success, while others have proved disastrous such as U.S. actress Lindsay Lohan at Emanuel Ungaro.
"I don't want this to be a celebrity line. It is meant to be a lasting business not a quick celebrity licensing line," Schiffer said.
Schiffer said she was on a steep learning curve and admitted she still had much to learn as a designer.
"I want the product to live without my name so that it does not really need me. As a company, I hope it builds up over time so that one day, hopefully, I can hand it over to my children."

The model created a joint-venture with the German maker of luxury cashmere sweaters Iris von Arnim. She invested her personal funds in the company of which she owns half.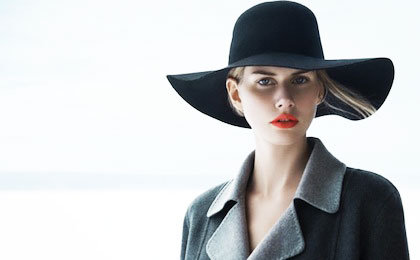 Creating your own way, instead of going with the flow. For more than three decades, this has been the philosophy of the family-run company Iris von Arnim.
Valentin von Arnim, managing director of Iris von Arnim, said the retail strategy of the Claudia Schiffer brand was to sell to retailers in given cities on an exclusivity basis.
For example, Colette in Paris,
Harvey Nichols
in Britain and Hong Kong, Boutique 1 in Dubai, Beirut, Qatar and Abu Dhabi, The Corner Berlin in Germany.
Arnim said the sweaters had been bought by about 50 stores worldwide and would also be on sale next week at online retailer net-a-porter, now controlled by luxury group Richemont.
Initially spotted for her resemblance to Brigitte Bardot, Claudia Schiffer began her career in the late 1980s and quickly joined the supermodel elite alongside Linda Evangelista, Elle Macpherson, Christy Turlington and Naomi Campbell.
Having appeared on the cover of more than 500 magazines, she is one of the world's most successful and most enduring of the supermodels with a fortune estimated at more than $50 million.
Having recently featured in Yves Saint Laurent, Salvatore Ferragamo ads, Schiffer is now in campaigns for L'Oreal make-up and Chanel sunglasses.
She said wished to pursue her modeling career for as long as she could: "I will continue modeling until they don't want me anymore basically because I do love it very much."

(Editing by Paul Casciato)
© Thomson Reuters 2023 All rights reserved.