Ciel Textiles H1 profit slumps on materials costs
Wed Feb 16, 2011 8:18am GMT
* EPS falls to 0.47 rupees from 0.76
* Cost of cotton remains a concern
PORT LOUIS, Feb 16 (Reuters) - Mauritius clothing group Ciel Textiles FKL.MZ posted a 52 percent slump in its first-half pretax profit on Wednesday, blaming the soaring cost of its key raw material cotton CTH1.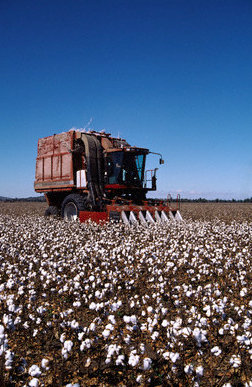 Cotton harvesting
The group, a supplier to British clothing retailers Marks & Spencer (MKS.L) and Next (NXT.L), and Zara, owned by Spain's Inditex (ITX.MC), said pretax profit dropped to 54.3 million rupees ($1.84 million) for the half year ended Dec. 31 from 114.07 million rupees a year earlier.
"Half-year profitability is down compared to last to year due primarily to capacity build-up costs in Asia and our difficulty to pass on in the short term the full increase in raw material cost to our customers," it said in a financial statement.
Cotton prices almost doubled last year, driven by strong demand and tight global stocks.
Listed on Mauritius' secondary Development and Enterprise Market, Ciel Textiles said its first-half earnings per share dropped to 0.47 rupees from 0.76 rupees a year earlier.
Revenue rose to 4.06 billion rupees from 3.83 billion rupees, the company said.
It said its order book for the coming quarter looked solid but the risks of a sustained rise in prices of raw materials remained. U.S. cotton futures rallied on Friday to a 150-year high.
"Our order books are well loaded and show slight improvements in margins. Furthermore, continued focus on cost cutting are yielding encouraging results," Ciel said.
"As a result, margins should improve in the second semester. We however remain vigilant on the sustained increase in the price of raw materials."
Mauritius' textile sector, which supplies top European chains, expects growth of more than 2 percent this year helped by a stabilisation in its traditional markets and a diversification into new ones.
It contributes 6.5 percent of gross domestic product and provides 11 percent of jobs. The industry grew a marginal 0.7 percent in 2010 due to the global downturn. (Reporting by Jean Paul Arouff; Editing by George Obulutsa and Erica Billingham)
© Thomson Reuters 2023 All rights reserved.