Cavalli to boost menswear in Asia
MILAN | Wed Jan 19, 2011 - Italian fashion house Roberto Cavalli, best known for its animal-print clothes, plans to boost its menswear range to meet demand from cash-rich Asian buyers.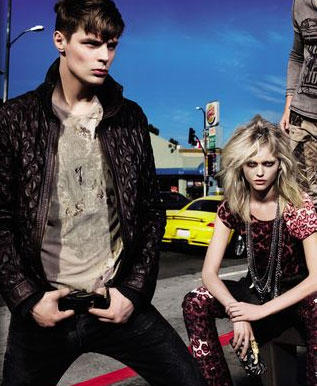 Cavalli menswear
Luxury goods groups have been posting strong 2010 results after riding out the worst economic slowdown in decades, helped by strong demand from Chinese shoppers.
Cavalli
will launch a new eyewear line and a perfume for men this year, as well as expand its footwear offer in new markets such as China and Japan, it said in a statement on Wednesday.
Chief Executive Gianluca Brozzetti told Reuters on Saturday that menswear would be a key driver over the next two or three years, especially with an expanded presence in Asia.
"We know how important menswear is in these countries," he said on the sidelines of Milan's menswear fashion week.
Cavalli said it had signed a five-year shoe licence agreement with Italian manufacturer Rodolfo Zengarini to boost its production. Zengarini makes footwear for brands such as
John Galliano
,
Calvin Klein
Collection and
John Richmond
.
Cavalli also plans to open 15 monobrand stores for its top line in 2011, including its first free-standing shops in Beijing and Tokyo, Brozzetti said.
Fashion houses such as
Versace
are returning to invest in Japan, one of the hardest-hit markets for luxury goods.
Brozzetti said signs for 2011 were encouraging, but warned against rising stock levels and a selective demand.
Founded 41 years ago by Italian designer Roberto Cavalli, the group said in September it expected a profit in 2010 after posting strong third-quarter results.
The group returned to profit in the first half of the year, compared with a 3.5 million euros ($4.67 million) loss in 2009.
(Editing by David Cowell)
© Thomson Reuters 2023 All rights reserved.