Carrefour says growth markets priority, denies exit
PARIS, Oct 7 (Reuters) - Carrefour's (CARR.PA) stores in emerging markets remain a priority for the French retailer and there are no plans to put them up for sale, the company said in a statement on Wednesday 7 October.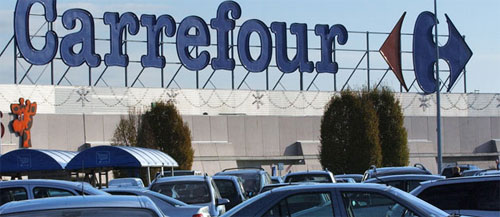 Photo : Mychèle Daniau/AFP
The world's second-biggest retailer behind
Wal-Mart
Stores Inc (WMT.N) has not changed its strategic plans since March, Carrefour said, adding that its strategy had the full backing of its board of directors.
Le Monde newspaper reported earlier on Wednesday 7 October that the group was seriously considering selling its Latin American stores in Brazil, Colombia and Argentina under pressure from top shareholders.
Carrefour was expecting two offers, including one from Wal-Mart, the paper said. "Carrefour denies the sale of its businesses in growth markets," the retailer said in a statement in response to the newspaper article.
"The group's geographic priorities are France, the other G4 countries and, in the medium- and long-term, growth markets, and particularly Brazil and China," Carrefour said. G4 refers to France, Belgium, Spain and Italy.
Le Monde reported that Carrefour was under pressure to make disposals from shareholders Colony Capital and
Bernard Arnault
, the owner of luxury goods group
LVMH
(LVMH.PA).
According to Carrefour's website, Colony Capital and Arnault hold 10.7 percent through Blue Capital, 2.15 percent through Colony Blue Investor and 0.7 percent through Groupe Arnault.
A spokesman for Blue Capital earlier declined to comment on the report.
Analysts value Carrefour's operations in Latin America at between 3.3 billion to 8 billion euros ($4.9-$11.8 billion), according to Le Monde.
Carrefour unveiled a plan in June to make savings of 4.5 billion euros by 2012 across the company by cutting operating costs, improving purchasing terms and reducing inventory times to boost profits.
Carrefour shares were up 0.5 percent at 31.08 euros by 1342 GMT. ($1=0.6802 euro) (Reporting by Noelle Mennella and Lionel Laurent; Editing by Dan Lalor and Simon Jessop)
© Thomson Reuters 2023 All rights reserved.