Calvin Klein Underwear undresses Zoe Saldana
American actress Zoe Saldana has been chosen as the face of the brand's new global communication campaign for Calvin Klein Underwear. It can be seen in autumn-winter 2010.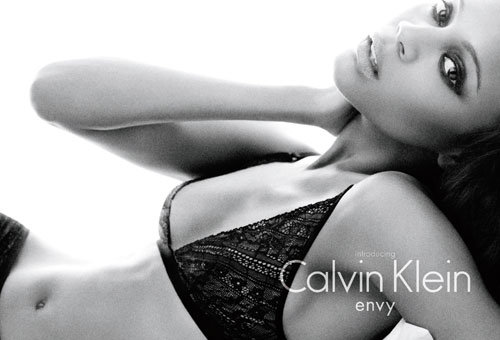 Zoe Saldana for Calvin Klein Underwear
The announcement was made at a press conference in Berlin on July 7. Calvin Klein Underwear (
Warnaco
Inc..) chose the caramel skin of Zoe Salda, already a veteran of wearing the fashion house's pieces, to showcase the brand new Calvin Klein Underwear line, Envy.
The new campaign was shot by Mikael Jansson in New York. In black and white, the visuals will be visible both in the press, on the net but also on billboards from October 2010.
Calvin Klein Underwear Envy reshuffles the positioning of the brand's lingerie collections as they are now available in three ranges. Envy is at level 1, proposing a soft seductive, yet minimal maintenance line. Suit Perfectly Fit (Level 2) offers a classic comfort. Finally, Seductive Comfort (Level 3) is the line that provides a perfect fit for all breasts.
"We are delighted to welcome Zoe Saldana as the new face of Calvin Klein Underwear and especially of our new line of Envy," said Bob Mazzoli, the brand's Creative Director. Her natural beauty should attract our consumers all around the world".
Copyright © 2023 FashionNetwork.com All rights reserved.