Adidas Q2 net income up, tweaks outlook higher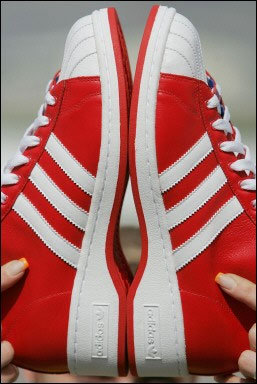 Photo : Oliver Lang/AFP
By Eva Kuehnen
FRANKFURT, Aug 5 (Reuters) - World No. 2 sports goods maker Adidas reported a 11.7 percent rise in second-quarter net income on Tuesday thanks to strong sales in Asia and Latin America and it slightly raised its 2008 outlook.
Adidas, sponsor of new European soccer champions Spain, said net income rose to 116 million euros ($180.9 million) from 104 million euros a year earlier, just above the average estimate of 112 million in a Reuters poll of analysts
Sales rose 5 percent to 2.52 billion euros, above expectations.
The company said it still expected 2008 sales to rise by a high single-digit percentage this year and net income to grow at least 15 percent from 551 million euros last year.
It slightly raised its outlook for 2008 gross and operating margin as it expects slightly higher sales at its adidas brand.
"Our performance in the first half of the year puts us firmly on track to achieve all of our financial targets for 2008," said Chief Executive Herbert Hainer in a statement.
Its shares were indicated 2.3 perecnet higher before the German market opens at 0700 GMT
The Adidas brand order backlog -- a key indicator of future sales for retailers -- was up 8 percent at the end of the quarter on a currency-adjusted basis, while the order backlog at its Reebok brand fell 13 percent.
Retailers are struggling worldwide, hit by deteriorating overall economic growth and easing consumer demand.
U.S. rival Nike in June reported a 12 percent rise in fourth-quarter profit, stressing that it was still a growth company despite an economic slowdown in its home market, the United States.
Adidas trades at 10.5 times 2009 projected earnings, while Nike trades at around 15 times and German rival Puma at a multiple of 11.2.
© Thomson Reuters 2023 All rights reserved.