White Christmas could bring chills for retail
Dec 16 - The headache for retailers caused by the cold snap may get worse as a forecast return to freezing conditions threatens to keep shoppers away in the crucial run-up to Christmas.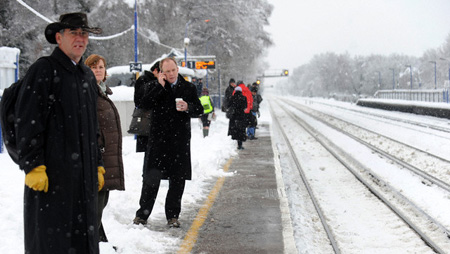 Snow caused a lot of travel chaos to Britain during last year's Winter
Weather experts predict a return of icy conditions this week following a brief thaw, which could force consumers to postpone festive purchases and retailers could struggle to make up any lost sales.
"If there was more bad weather immediately before Christmas then that could well be more of a problem. It may not be a case of postponing the expenditure, they just may never spend the money at all," Sam Hart, an analyst at Charles Stanley, said.
The unusually cold weather, which brought snow and ice to many parts of the country and disrupted travel in the coldest November since 1993, has already hit business at retailers such as HMV and
JJB
Sports.
About a third of all festive shopping in Britain is done in the two weeks before Christmas, according to research by GfK NOP. The market research group said the return of cold weather could plunge retailers into the red.
"I think clearly this is going to impact quite severely if this (cold) weather persists," said Richard Hyman, strategic retail advisor at
Deloitte
.
"It is not doing the retail trade any favours at all in what was already a very difficult and challenging period."

COLD SNAP

High street retailers lost 110 million pounds a day when snow kept shoppers indoors in December, according to online shopping comparison website Kelkoo.
Home improvement retailers such as
Kingfisher
, Halfords and Home Retail are seen as vulnerable because cold weather hurts sales of Do-It-Yourself (DIY) items.
"Kingfisher is trying to increase exposure to the informal building sector in the UK and I am sure that has been quite badly affected by the bad weather," Hart said.
Clothing retailers such as
Marks & Spencer
and Next are seen as relatively safe as chilly conditions tend to drive up sales of seasonal clothing and footwear.
Food retailers could also benefit from customers stocking up on essential foodstuffs in preparation for freezing weather.
The
John Lewis
Partnership said sales at its Waitrose food store rose 5 percent for the week ending Dec 4, as investors stocked up on food as the cold weather eased up.
The timing of the bad weather is also particularly damaging for electronics retailers such as Kesa Electricals and Dixons, which are banking on customers bringing forward big-ticket purchases ahead of the hike in Value Added Tax (VAT) in the new year.
"The problem for retailers is compounded in that many are hoping for their sales to be lifted in the final weeks of the year... ahead of January's VAT hike," said Howard Archer, economist at IHS Global Insight.
A survey this week from the Confederation of British Industry provided evidence that shoppers have been buying to beat the January sales tax increase.
The CBI distributive trades survey's December sales balance rose to +56 from +43 in November, the highest index level since April 2002.
Official figures showed that UK retail sales in November rose at a slightly weaker-than-expected pace, recording the biggest monthly fall in household goods since April -- with furniture and hardware sales falling sharply.
ONLINE HOPES
Online retailers may benefit from the freezing weather, but it could also hamper deliveries.
"It may well play into the hands of the online retailers to a certain extent although ... if the weather is very bad then obviously the delivery vans and parcel companies are going to struggle to get the goods to customers," Hart said.
This dims hopes for a surge in online shopping, which was expected to increase by 15 percent this Christmas, compared to total retail sales growth of around 1 percent, according to research by Deloitte.
"When you do get a few days of respite, often retailers are not going to very easily be able to get the stocks that they need in the branches that they need," Deloitte's Hyman said.
Some retailers' shares have underperformed in the past few weeks partly on concerns over the weather.
The FTSE 350 retail index is up 1.8 percent since the start of the cold spell in late November, against a 3.4 percent gain in the FTSE 350 in the same period.
But valuations in some retailers have risen, so that uncertainty created by the weather might just be the excuse investors are looking for to sell.
For example, Kingfisher carries a one-year forward price-to-earnings (P/E) ratio of 12.95 times, and Kesa Electricals at 14.1 times, against a P/E of 12.0 for the FTSE 350 index, according to Thomson Reuters data.
"When the companies come out with trading statements in January there may be a little bit of noise around the share prices on the back of like-for-like sales," said Hart.

By Harpreet Bhal
(Editing by Jane Merriman)
© Thomson Reuters 2023 All rights reserved.