Watchmakers tickle fancies with feathers and bamboo
BASEL - Feathers, unscratchable gold, bamboo and even straw. Adorning watches with regular gold and silver is rather boring these days, as designs at the 2012 Baselworld watch fair showed.
Displays sparkling with the usual gold, diamonds and other precious gems, watchmakers were also keen to show their expertise by designing and working with new materials.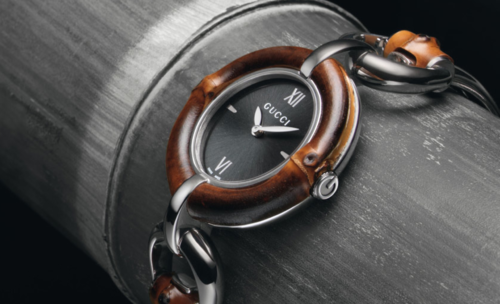 Gucci Timeless
Harry Winston worked with plumassiere Nelly Saunier to unveil four elegant watches that used peacock and pheasant feathers arranged in intricate geometric patterns on the dial.
"In some civilisations, feathers had a similar value and meaning to diamonds," Frederic de Narp, president and CEO of the jeweller and watchmaker, told Reuters at the fair.
Gucci Timepieces went back to nature and its famous bamboo-handled bag for inspiration, presenting watches with elegant round faces, bamboo inlaid around the bezel and on the bracelet.
Continuing the natural materials theme, Patek Philippe used wood marquetry, while the watch division of Hermes recreated two of its famous check and chevron tie prints using straw marquetry in watches costing around 150,000 Swiss francs ($161,100).
For those who don't wrap their Swiss-made watch in cotton wool, manufacturers have come up with tougher materials, such as unscratchable gold at Hublot and aerospace-engineered zalium at Harry Winston.
Jean-Claude Biver, chairman of Hublot, even carried around a steel file to demonstrate the indestructability of its new unscratchable gold that it has patented.
BLUE IS THE COLOUR
Watches everywhere, especially those for ladies, had blue accents, reflecting a colour popular on the fashion catwalks.
La Montre Hermes unveiled watches with 'electric blue' and 'lime' leather straps, allowing ladies to match their watch to their Hermes handbag.
Sound also played a big role for watchmakers. The chief executive of Ulysse Nardin demonstrated how the alarm on the Sonata cathedral watch chimed exactly like church bells, while Tudor replicated the sound of the dial on a safe with the Pelagos dive watch - retailing for 3,950 Swiss francs.
Davide Cerrato, head of the creative department at Rolex's Tudor, said people who wear diving watches often play with the bezel and the noise made as it turns would remind the wearer of the technical content of the watch.
Swiss watchmakers, who many thought would lose business following the rise of mobile phones with their built-in clocks, also tipped a nod to the latest phone trends.
Tag Heuer proudly displayed a smartphone with Android technology, available in steel, rose gold or titanium versions, at a cost of between 2,800 euros and 8,500 euros ($3,600-$11,100) - contract not included. It's expected to be popular with businessmen in Asia, Russia, Britain and France, it said.
Tissot president Francois Thiebaud showed off the firm's touch screen watches, where touching the screen allows you to change the function.
"It's the details that make life more beautiful and more luxurious," he told Reuters.
($1 = 0.9312 Swiss francs)
($1 = 0.7677 euros) (Additional reporting by Antonella Ciancio and Caroline Copley, editing by Paul Casciato)
© Thomson Reuters 2023 All rights reserved.