VAT hike, higher costs to hit UK retail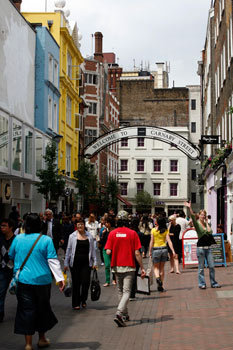 Carnabi Street (Photo PixelFormula)
The pain for Britain's retailers is set to intensify as a rise in VAT sales tax from next year puts pressure on household incomes and rising input costs squeeze their profit margins, business consultant Deloitte said on Tuesday.
Richard Hyman, strategic retail advisor to Deloitte, told the Reuters Consumer and Retail Summit that he expected the value of British retail sales to fall by about 1.5 percent this year, and more in 2011.
The British government said on Tuesday it would raise value-added tax to 20 percent from 17.5 percent on January 4, 2011 as part of a raft of tax increases and spending cuts aimed at reducing record levels of government borrowing.
"VAT going up will have a very significant impact on retailers' performance," Hyman said, adding though, that he thought the long-term consequences would be worse if the government did not take bold action to reduce its debts.
"The choice is, are we going to take the medicine ourselves or are we going to have someone else shove it down our throats?"
Consumer spending has been supported over the past 18 months by a big fall in interest rates and government measures to stimulate the economy.
Now taxes are rising and public sector jobs are at more risk, shoppers are likely to turn more cautious, Hyman said.
"In many ways I don't think we've gone into recession yet. I think the recession is about to come ... Next year has to be worse than this year," he said.
COST PRESSURES
Compounding the problem of slowing demand, retailers face cost pressures from the weakness of sterling, higher fuel prices and rising wages in key manufacturing centers like China.
China's decision to allow its currency to appreciate was another blow for retailers and while they might try to shift to suppliers in other countries, like Bangladesh and Vietnam, there would not be the capacity to quickly absorb a jump in demand, Hyman said.
He said store groups would try to counter inflationary pressures by cutting costs but they had already done a lot of this over the past two years.
As a result, the industry faced "a lower revenue growth and a lower margin future," Hyman predicted, which would lead to more business failures, and to more consolidation.
Hyman thought store groups would be increasingly tempted into expanding into faster-growing foreign markets but warned the industry's poor track record overseas was not encouraging.
"I'm not sure it really is something that people are getting better at. I'm not sure you could demonstrate that."
Hyman said overseas expansion worked best when a retailer was targeting a fairly narrow customer base with similar taste to shoppers in its home market -- like Spanish fashion group
Inditex
(ITX.MC) and Swedish rival Hennes & Mauritz (HMb.ST).
© Thomson Reuters 2023 All rights reserved.