US lenders cut deals to avoid foreclosure crisis
By Nick Carey
CHICAGO (Reuters) - In a relatively short space of time, Sharon Jackson lost her mother, her sister, and her job and came within a whisker of losing her home of 20 years as well.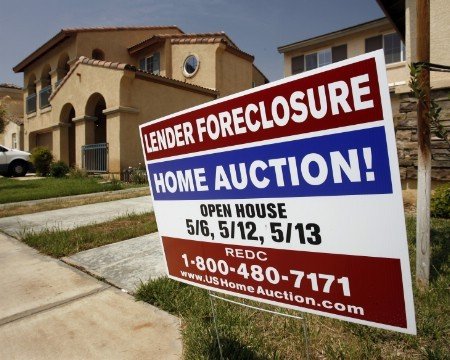 "If anything bad could happen, it was happening to me," said Jackson, 55, while making a strong cup of coffee in the kitchen of her single-story home on Chicago's blue-collar South Side. "I was behind two months, but I didn't want to lose my home and see it boarded up."
Just four doors away, a house that went into foreclosure last year is boarded up. Jackson recalls watching as squatters moved in and stripped it of anything that could be sold.
Fearing her home was next, she approached her lender, Homecomings Financial, a unit of GMAC Financial Services. To her surprise, it cut the interest rate on her $80,000 (40,000 pound) mortgage, reducing her monthly payment to $713 from nearly $1,000. With two part-time jobs -- as a book keeper and as an "Avon Lady" selling cosmetics door-to-door -- Jackson says she can now afford her payments.
"I was long overdue for some good luck," she said, taking off her glasses and wiping tears from her eyes.
With so many houses in the United States facing foreclosure, mortgage lenders are starting to offer favorable deals for distressed borrowers like Jackson that they would not have agreed to just six months ago.
This is not altruism, but a case of lenders trying to avoid being stuck owning hundreds of thousands, or even millions, of homes, according to economists, academics and other experts.
"The smarter lenders are cutting deals in order to minimize their losses," said Peter Morici, a professor at the University of Maryland School of Business. "They don't have much choice."
In the third quarter of 2007, mortgage companies had modified the terms on 54,000 loans and had worked out new repayment plans for another 183,000, the Mortgage Bankers Association said on January 17.
The association did not give comparative figures for the third quarter of 2006. An official said the loan modification programs had likely expanded further during the fourth quarter of 2007.
James Leyba, a community relations specialist at Homecomings Financial who worked with Jackson on modifying her loan, said that as the housing crisis has grown, lender behavior toward borrowers has changed significantly in a short period of time.
"The lenders I work with are willing to talk about interest rate reductions or other loss mitigation options in a way that was inconceivable only six months ago," he said.
But Leyba and others in the industry say that for many subprime borrowers whose adjustable-rate mortgages (ARMs) have reset at a rate they can't afford, the only option is to sell, if they can.
DAMAGE CONTROL
According to research by the non-profit organization the Center for Responsible Lending, there are 7.2 million outstanding subprime mortgages in the United States. Subprime mortgages are those offered to people with weak credit histories at higher interest rates than those offered to prime borrowers -- those with good credit.
The center estimates that more than 14 percent of all subprime mortgages are already in default and that 2.2 million families or individuals with a subprime mortgage made between 1998 and 2006 will lose their homes through foreclosure. The center further estimates homeowners will lose $164 billion in equity as a result of the crisis.
Mark Zandi, the chief economist of Moody's Economy.com, told the U.S. Senate Judiciary Committee in December that some 2.8 million mortgage loan defaults will occur in 2008 and 2009.
Neighborhood Housing Services of Chicago, another non-profit group, estimates that around 40 percent of subprime borrowers who are already in trouble because their mortgages have reset now face monthly payments either close to or higher than their total gross monthly income.
"Most of them are beyond help," said Michael van Zalingen, the group's home ownership services director. "It's really scary."
In December, Treasury Secretary Henry Paulson unveiled a plan by the Treasury Department and mortgage industry that aims to help 1.2 million borrowers keep their homes by freezing their interest rates for five years. But the plan covers only loans originated between January 1, 2005, and July 31, 2007, whose interest rates will reset for the first time between January 1, 2008, and July 31, 2010. For many homeowners, that is too late.
"The problem is that so many people's interest rates have already reset," van Zalingen said. "The Paulson plan is welcome, but it won't help that many people."
For lenders, there are financial incentives to keep people in their homes, even if it means cutting interest rates and making less money.
When a home ends up in foreclosure, the lender becomes the owner of a property that quickly loses value, with no revenue coming in. They are also liable to pay property taxes.
"Our investors want us to keep people in their homes and paying their mortgages," said Tom Kelly, spokesman for Chase Home Lending, a unit of JPMorgan Chase & Co , which originates some $150 billion in mortgages and home equity loans annually. "They do not want us to become property owners."
Kelly added that Chase had made contact with 24,000 customers between April and October last year who were behind on their payments and modified $347 million worth of subprime mortgages.
TOO LATE
Not every lender appears to be willing to modify loans. Peggy McQueen of Punta Gorda, Florida lost first her father then her job before her adjustable-rate mortgage reset, taking her mortgage payments beyond her means. McQueen tried to contact her mortgage company, who "wouldn't deal with me at all," she said.
Rick Farr, managing partner of United Capital Mortgage Assistance in Largo, Maryland, said that he gets many calls from people like McQueen whose interest rates have risen so much that they just can't pay their mortgages.
"Two-thirds of the people who call us we can't help," he said.
Geoff Smith, project director at Chicago-based community development group the Woodstock Institute, says any lender that refuses to talk to distressed borrowers is courting disaster.
"It's in their own best interest to help people save their homes," he said. "Less revenue is better than none."
It's not all about lenders lowering interest rates or forgiving debt. Homecomings Financial's Leyba said that in order to keep their homes, distressed borrowers also often have to budget and forego non-essential items like cable television.
For those who are on the brink of foreclosure and struggling to meet mortgage payments, the advice of most people in the industry is simple: Call your lender. Now.
"The worst a lender can do is say 'no'," said Andrea Gellar, a real estate agent at Sudler Sotheby's International in Chicago. "If you're going to have your home taken away anyway, what have you got to lose?"
Sharon Jackson says talking to her lender was a "blessing."
She lost her job and her mother in March 2004 and spent two years nursing her sister, using severance pay and savings to pay her mortgage. She got another job in July 2006, but lost it five months later. In March 2007, her sister died and funeral expenses plus a car breakdown put her behind with her mortgage.
"I raised my children here, this is my home," she said. "If I hadn't called my lender, this would just be one more boarded up house."
© Thomson Reuters 2022 All rights reserved.