U.S. retail to outpace European
June 27 - U.S. retailers will return to modest growth in time for the holiday season, outpacing their counterparts in Europe which will suffer the effects of a debt crisis for years to come, according to consultants Deloitte.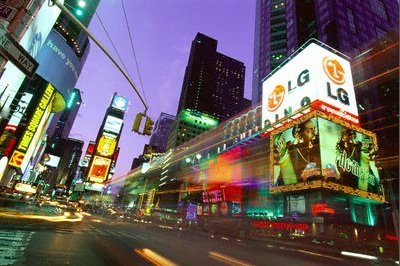 Times Square at night, Manhattan - photo: corbis
Ira Kalish, director of economics and consumer business at Deloitte, told the Reuters Consumer and Retail Summit that Germany should boost domestic demand to stimulate imports from debt-laden European economies like Greece, Italy, Spain and Portugal.
But with Europe's biggest economy focused on balancing its own budget, and driving through a fiscal squeeze to get there, he saw little prospect of that happening any time soon.
"I would expect to see a very difficult environment for retailers in Europe over the next one to two years. And even beyond that I'm not sure we're going to see a whole lot of health," he said.
Kalish was more upbeat about the United States which, like Europe, has seen its economic recovery falter in recent months.
He said a slowdown in second-quarter growth, which had hit spending, was due mainly to one-off factors like bad weather and disruption from March's devastating earthquake in Japan.
While lower and middle-income U.S. shoppers, many of them still underwater on their mortgages, would stay cautious with unemployment showing little sign of falling, they were at least seeing some improvement in real incomes, he said.
Higher income shoppers, meantime, were feeling much better off, creating an environment where discount and luxury retailers could both continue to thrive, while those in the middle come under the most pressure.
"I think in the second half we will see U.S. retail sales growth go back to where it was in the first quarter, which was modest growth, but still growth (of 2-3 percent)," he said.
FIGHTING BACK
Consumers in individual European countries were coming under intense pressure as their governments drive through draconian austerity measures at a time of rising prices, Kalish said.
Britons, for example, faced a "perfect storm of negative effects," with the government slashing spending, the bank of England unable to provide further monetary stimulus because of rising inflation, and real incomes falling sharply, he said.
European retailers needed to respond by stepping up expansion into faster-growing emerging markets, particularly in Asia and Latin America, he said.
That carried big risks, as consumer tastes vary so widely.
"It's a very steep learning curve. It's a long-term investment. The returns are not likely to be quick. But in the world we're living in, this is where the growth is going to come from," Kalish said.
He saw particular opportunities for clothing and homewares retailers from an explosion of middle-income households in emerging markets like Brazil.
"If you go to the malls and look at the specialty apparel, and homewares (stores in Brazil), it's still very fragmented and still very local. That's where I think you can see opportunities," he said.
While a small number of retailers, like fashion groups
Inditex
and
H&M
and home improvements group
Kingfisher
were already going global, there was plenty of room for others like U.S. chain Crate & Barrel and Britain's
Marks & Spencer
to make more of an impact too, he said.
As well as expanding into growth markets, retailers needed to respond more effectively to the internet, which has turned many of the goods they sell into commodities by making them widely available and instantly comparable by price, Kalish said.
That meant thinking more like a consumer goods company to create distinctive brands and harnessing new technologies.
"So far, social networks have mostly been a way to destroy brands and accelerate commoditization. Retailers need to fight back and use social networks to try to build their brands and build their relationship with consumers," Kalish said.
(Editing by James Davey and Jon Loades-Carter)
© Thomson Reuters 2023 All rights reserved.