Truworths headline EPS up 16 pct
* 26-week sales up 10 pct
* Retail sales so far in H2 up 20 pct
* Says won't maintain that level of sales growth
* Confident of real FY earnings growth
* Shares down 1.7 pct, lag market
(Adds details)
JOHANNESBURG, Feb 18 (Reuters) - South Africa's biggest listed clothing retailer Truworths International Ltd (TRUJ.J) reported a 16 percent rise in interim headline EPS but forecast slower sales growth ahead given tough economic conditions.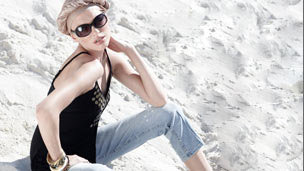 Truworths Fashion
The company said headline earnings per share up rose 16 percent to 184.7 cents in the 26 weeks to Dec. 28, at the top end of its own forecast for a 12-17 percent rise. The increase is 23 percent if the extra week in the year-ago period is excluded, it said.
Truworths said sales of merchandise jumped to 3.306 billion rand ($324.1 million), up 10 percent, or 14 percent excluding the extra week in the prior period. Operating profit rose 11 percent and the company increased its interim dividend by 22 percent.
Sales in the first seven weeks of the second half of the financial year rose 20 percent versus the year-ago period, but Truworths said it did not expect sales to keep growing at this pace.
"While the decline in interest rates and lower fuel costs are positive for consumers, the retail trading environment remains difficult and management does not expect conditions to materially improve over the remainder of the 2009 period," the company said in a statement.
Truworths said it would increase trading space in the second half of the 2009 period by opening 20 new stores across all brands and was confident of achieving real full-year earnings growth.
Shares in the company fell 1.71 percent to 34 rand, lagging a 0.88 percent weaker Johannesburg All-share index . (Reporting by Rebecca Harrison)
© Thomson Reuters 2022 All rights reserved.