Top fashion retailers battle slack European spending
June 15 - The world's top two fashion retailers showed the challenges of luring cash-strapped Europeans on Wednesday, with H&M missing sales forecasts and Inditex relying on other markets and cost control for growth.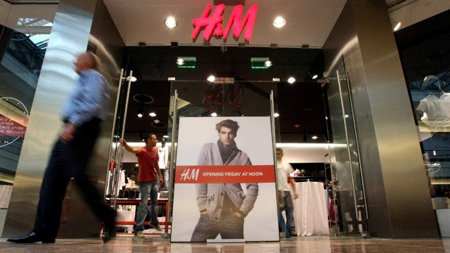 Fashion retailer H & M in Florida
Inditex, the world number one and owner of the
Zara
brand, posted a 10 percent rise in first-quarter net profit as its expansion into fast-growing emerging markets like China helped to offset sluggish demand in its home market of Spain and the pressure from higher costs like cotton.
Sweden's Hennes & Mauritz, which makes a larger proportion of its revenues in Europe, missed forecasts with a 2 percent rise in same-store sales in May.
The Organisation for Economic Cooperation and Development warned on Tuesday that major economies, with the exception of the United States, were losing momentum, with higher prices and austerity measures hitting consumers in Europe.
Tesco
, the world's third-largest retailer, showed on Tuesday it was relying on growth in Asia and eastern Europe to offset weaker-than-expected sales in Britain.
Clothing chains have been hit particularly hard, because they are also facing higher costs of raw materials like cotton and rising wages in Asian manufacturing centres. U.S. group
Gap
issued a profit warning last month.
Inditex has suffered less than H&M, however, because it buys a larger proportion of its garments in Europe and north Africa, where wage increases have been much lower than in Asia.
Inditex, given a fillip in April when Britain's Kate Middleton wore a 49.95 pounds ($81.98) blue polyester Zara dress the day after her wedding to Prince William, said its gross profit margin fell 110 basis points to 58.8 percent, broadly in line with expectations.
Analysts expect a bigger fall in gross margin from H&M when it reports second-quarter profit figures on June 22, with extra pressure on the Swedish group from adverse currency moves.
"A good set of results from Inditex. A bit more worrying from Hennes," said Santander analyst Rebecca McClellan, who has an "overweight" rating on Inditex shares and an "underweight" recommendation on H&M.
At 0745 GMT, H&M shares were down 2.3 percent at 218.4 Swedish crowns, lagging a 0.2 percent fall in the STOXX Europe 600 retail index .SXRP. Inditex shares were up 0.2 percent at 61.88 euros.
INDITEX PUSHES ONLINE
Inditex, with more than 5,150 stores in 78 countries, said it made a net profit of 332 million euros on an 11 percent rise in sales to 2.96 billion euros.
Sales growth had continued at that rate up to June 12, which analysts said equated to same-store growth of about 3 percent.
Inditex, the brainchild of Spain's richest man Amancio Ortega who is still the main shareholder, also said it was continuing to expand into faster-growing online and new markets.
Zara will launch online in the United States on Sept. 7, while six of the group's other brands will move on to the Internet during the same month.
Liberum Capital analysts said in a recent research note that Inditex's online drive could add 1.8 percent to like-for-like sales this year, and 3 percent next year.
The group, which attracted queues outside a new store in Melbourne, Australia, on Wednesday, also said it planned to enter South Africa, Taiwan and Peru by the end of the year.
H&M, with around 2,300 stores in about 40 countries, said turnover in March-May, its fiscal second quarter, rose 2 percent to 27.6 billion Swedish crowns ($4.4 billion) excluding VAT, lagging a forecast of 28.4 billion.
"If people bought summer clothes already in April when it was very hot (in key European markets), they aren't going to buy them in May again," said SG Securities analyst Anne Critchlow, contrasting H&M's weak sales in May with a strong performance the previous month.
Inditex and H&M shares have recovered from losses earlier this year as cotton prices have come off their highs. But while Inditex has beaten the STOXX Europe 600 retail index .SXRP by 14 percent, H&M has outperformed by 3 percent.
By Sarah Morris and Anna Ringstrom
(Additional reporting by Sonya Dowsett in Madrid and Mark Potter in London; Writing by Mark Potter; Editing by Elaine Hardcastle and Jane Merriman)
© Thomson Reuters 2023 All rights reserved.