Spring-Summer 2013: the male liberated in Paris
If love lasts three years, so do trends. But both always return and designers presenting their men's collections in Paris last week demonstrated the fact with daring and freshness. Here, a shortlist of the main trends observed last week by FashionMag.com.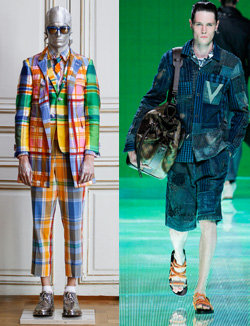 Thom Browne and Louis Vuitton (PixelFormula)
One thing is clear: men no longer need fear prints, both partial or even all-over. For starters, plaid continues on its merry way this season, trending toward a return to a deconstructed patchwork in materials and colors. The plaids were all in Technicolor at
Thom Browne
, Band of Outsiders,
Comme des Garcons
Shirt, and more unexpectedly at
Louis Vuitton
, where the English designer Kim Jones offered a completely azure look in a nautical inspired collection.
The male silhouette received another cropping. Already the boom of cigarette pants had established a rolled up look for many seasons. But now the Bermuda short is in favor, even short shorts or better yet, rompers.
Freedom, liberty or camouflage
"Printmania," the latest buzzword for the print trend, found its voice at
Paul Smith
in a digital explosion, thus updating the floral direction that he has been defending since his start. Flowers were everywhere, including on a cream embroidered pants at
Ann Demeulemeester
, who normally creates a more somber rock romantic look. No doubt, a delightful aesthetic shock for her customers, so devoted to black and white.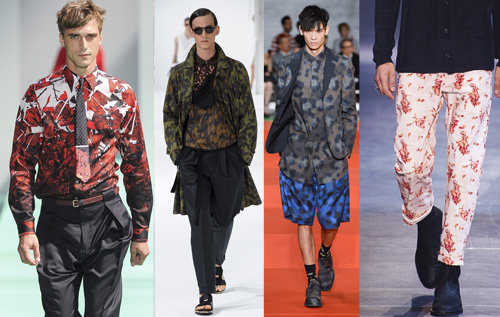 Paul Smith, Dries Van Noten, Kenzo, Ann Demeulemeester (photos PixelFormula)
The other trend that never ceases in coming back is camouflage, which this time had to reinvent itself by fusing with other feline or floral prints. Preferably a partial print – that seems to be the message of
Dries Van Noten
, who used prints as the dominant theme for several of his designs, even sneaking in a little black lace at the neckline of a shirt, overprinted with an abstract animal pattern. For him as well as many other designers, camouflage has to be a personal oeuvre, and a long cry from Salvation Army surplus.
Carol Lim
and
Humberto Leon
at
Kenzo
, New York's favorite brand, came up with a half-camo, half-leopard version. The Kenzo man requires a sensitive shell to survive in his urban jungle.
The blousy T-shirt, XXL parkas and pristine white
Layering has a bright future ahead in terms of style. Clothes are piled on starting from the longest and ending with the shortest to create the look. Just like in the 80s and 90s, it is time to tuck in the T-shirt and blouse it out. The shoulders are accentuated by rolling up wide sleeves and entire outfits in all-white are also being worn, even the outerwear.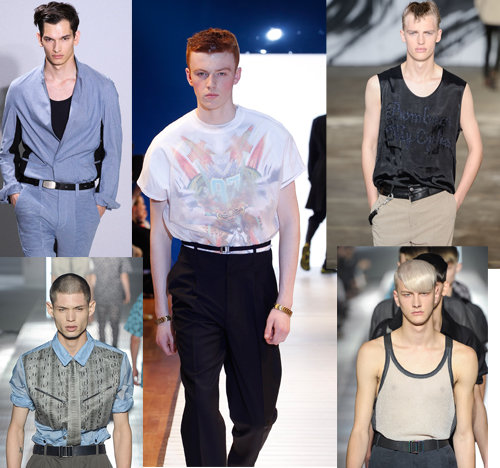 3.1 Phillip Lim (top left) Christian Lacroix (centre) Miharayasuhiro (top right) et Lanvin (bottom left and right) PixelFormula
Faced with a sea of long shirts and tunics, we are also seeing many designers use shapes whose structure comes from a bit oversized, slightly blousy T-shirt tucked into pants. This also works with a shirt, a leather jacket and even a tie, as at
Lanvin
.
Parkas seem to be everywhere, made of high-tech materials, ultra-light, often with a wrinkled finish. Sleeves are wide and bunched at the cuffs, which makes the wearer's build appear larger and adds a note of virility. Some designers are also specializing in exaggerating proportions somewhat playfully, like the Korean Juun J., who introduced his version of XXL shoulders, as seen last year at Thom Browne.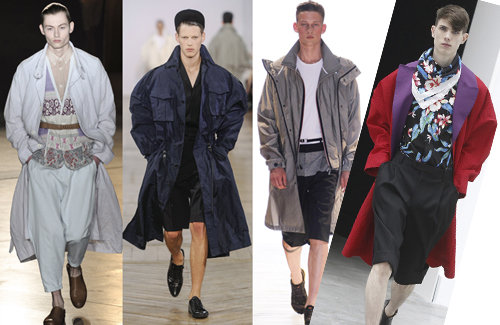 Damir Doma, Juun J., Christian Lacroix, Balenciaga (photos PixelFormula et Balenciaga)
Another hard-to-ignore trait of this just concluded Paris men's season is the invasion of white as a basic color. Whether it be paired with a bold color or black, bright white consistently appeared on most Parisian runways as it did in Milan, Florence and London. Maybe it is a way for designers to absolve the boldness of shapes, the permissiveness of loose tailoring and the brazen borrowing from high-tech sportswear, the running shoes and sandals worn with many of the outfits.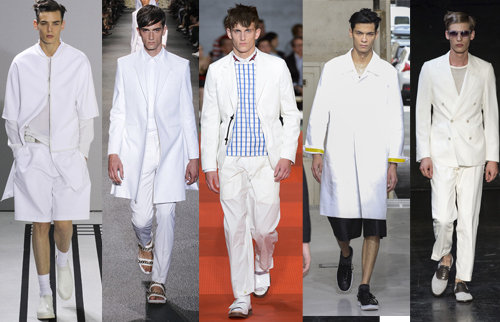 3.1 Phillip Lim, Givenchy, Kenzo, Issey Miyake et Hardy Amies (photos PixelFormula)
The materials silk and satin made a grand entrance in the collections, although one expects to see them more in winter. The same phenomenon appeared a few seasons ago with leather, a material we now see everywhere, especially because of treated lambskin and extra thin suede, offered year round thanks to technology improvements in its production.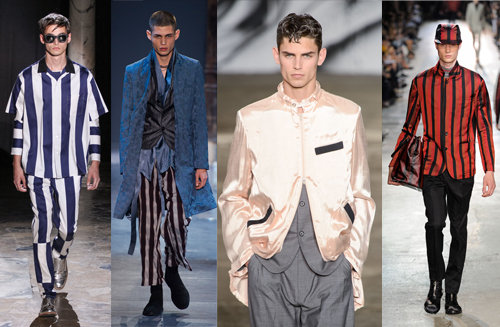 Acne, Ann Demeulemeester, Miharayasuhiro, John Lawrence Sullivan (photos PixelFormula)
Vertical
stripes on silk suits that toy with a pajama look – seen at
Damir Doma
, Ann Demeulemeester or Acne, among others – should get credit for silencing those who complain that runway fashion is only for dressing young pretty boys with adolescent bodies.
Copyright © 2023 FashionNetwork.com All rights reserved.