Shippers, insurers fear Somali piracy may escalate
LONDON (Reuters) - Pirate attacks on vessels sailing off Somalia could get worse, pushing up insurance and shipping costs and possibly forcing companies to use longer sea routes, industry officials say.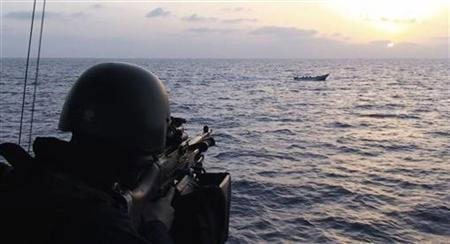 Photo: REUTERS/Sgt. Mats Nystrom/Combat Camera Swedish Armed Forces/Scanpix
Piracy has flourished in recent months off the busy Gulf of Aden and Indian Ocean shipping lanes and seaborne gangs have seized several cargo ships and collected tens of millions of dollars in ransom for the safe release of crews and cargoes.
Last week the Group of Eight powers said it was "seriously concerned" about the increasing threat.
"(The) piracy risk is likely to get worse before it gets better," said a report this month commissioned by Lloyd's of London, the specialist insurance market.
While foreign navies have been deployed off Somalia since the turn of the year to try to prevent attacks, those forces have found themselves stretched given the vast expanses of water involved leaving vessels vulnerable to attack.
"It's quite difficult to find vessels that will go through the Gulf of Aden these days," said a London-based shipbroker.
Marine insurance brokers said insurers were charging between 0.05 percent to 0.175 percent of the value of a ship per voyage in the Gulf of Aden versus zero to 0.05 percent in May 2008.
"Rates and charges may well escalate if the number of successful piracy attacks increases," said Paul Newton, head of hull and yacht underwriting in Britain with insurer Allianz Global Corporate & Speciality.
CONSUMER GOODS
While poorer weather has hampered pirate attacks of late, the lure of ransom money will ensure Somali gangs remain fully active when conditions improve, analysts say. Maersk Line, the world's largest container shipper owned by Danish shipping and oil group A.P. Moller-Maersk, said it had put an emergency surcharge in December on all cargo transiting the Gulf of Aden, which it said would contribute to the additional costs including crew risk compensation.
Nearly 20,000 ships pass through the Gulf of Aden each year, heading to and from the Suez canal.
Freight rates have risen in recent months, with ship-owners feeding in their higher costs.
"The cost of keeping global trade routes open could result in a growing 'piracy tax' that will be felt by a wider range of businesses and consumers, already battered by the effects of recession," the Lloyd's report said.
There have been concerns that the violence by Somali pirates may also disrupt the transport of consumer products.
"Retailers are highly reliant on their increasingly global supply chains and any unrest or piracy could have an impact on this crucial process," said Paul Howard, head of insurance and risk management with British grocer J
Sainsbury
.
"Although none have been confirmed, there have been rumours of deviations in delivery because of piracy events, the Gulf of Aden being a crucial route for many retailers in the UK," Howard said in the Lloyd's report.
Some shippers have already started to avoid the Gulf of Aden opting to go around the Cape of Good
Hope
, which adds as much as three weeks to transit times, raising transport costs.
A.P. Moller-Maersk said certain of its vessels with low freeboard -- the distance between a ship's railings and the water -- and low speed were being re-routed around the Cape.
"We welcome the efforts made by the international community to tackle the problem of piracy which is a threat to important international lanes," said Soren Skou, chief executive of the group's Maersk Tankers unit.
"However, the problem has not gone away and a long-term solution is needed."
By Jonathan Saul
© Thomson Reuters 2023 All rights reserved.