Record gap between highest and lowest UK shop rents
LONDON - The gap between shop rents in Britain's swankiest and humblest locations is wider than ever, as wealthy international shoppers turn a national north-south divide into a chasm between the choicest parts of central London and everywhere else.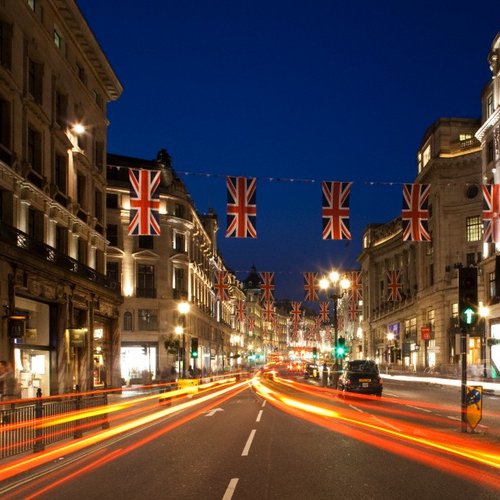 Regent Street / Photo: Corbis Images
While rents on London's priciest shopping area Bond Street have soared on the back of demand for luxury goods from Chinese and Russian shoppers, the worst-hit towns are charging rents as low as 2.5 percent of those levels as government budget cuts hit people's spending power.
In 1987, the lowest annual high street rent was 15 pounds ($24) per square foot in the East Anglian town of Sudbury, compared with 175 pounds on Bond Street.
Now, the cost in Whitley Bay, in the northeast, is 25 pounds, versus the 1,000 pounds paid by Italian shoemaker Salvatore Ferragamo for a Bond Street site this month.
"The rental disparity is the widest since we started monitoring it in 1987," said Richard Doidge, director of research at property agency Colliers International, which surveys about 400 shopping locations each year.
"People used to speak about the UK's north-south divide, but it's more accurate to say it's central London versus the rest of the UK, and that's really accelerated in the last two years," he told Reuters.
Dudley, a town with a population of over 300,000 in the West Midlands, is home to one such struggling high street. Almost 30 percent of its stores are vacant, making it the emptiest medium-sized centre in the UK, figures from research company Local Data Company show.
Retailers could rent the equivalent of 28 stores in Dudley for one on Bond Street, while the figure was three in 1987, Colliers data show.
While the town centre used to house mid-market retailers such as Debenhams and department store Beatties, it is now populated by cafes, payday loan shops and boarded-up outlets left behind by the likes of fast food chain McDonalds, which shut in 2006.
Dudley North's Member of Parliament, Ian Austin, is campaigning for the town centre to win funding from the government, which has earmarked 1 million pounds to help 12 towns revive their high streets.
It is a drop in the ocean compared with what landlords are spending in central London. The Duke of Westminister's property company Grosvenor Group has spent 10 million pounds revamping public areas on its London estate so chauffer-driven cars can park more easily.
The Crown Estate, which manages the monarch's property holdings, is spending 1 billion pounds in a makeover of Regent Street in an attempt to lure large international retailers seeking flagship stores.
The worst-hit high streets could be bulldozed to make way for other uses such as new homes, while others would only survive by changing their mix of tenants, said Darren Yates, a partner at property agent Knight Frank.
Those that survive would contain more convenience stores and community sites, including pop-up shops, internet and charity shops, stores for local artists and furniture makers, doctors, dentists, Yates said.
Dudley's high street suffered after the opening of the nearby Merry Hill shopping centre, agents in the area told Reuters.
"A rundown high street is just not as attractive as Lakeside or Trafford Centre," said David Fischel, Chief Executive of UK mall owner Capital Shopping Centres Group. "There's no use moaning about it. Local authorities have to be proactive about their high streets."
There are early signs that high street pain may be spreading to bigger centres as the economic outlook darkens. Falling demand for stores was starting to hit property values, Investment Property Databank said last Tuesday, which singled out shopping centre values.
British Land, the country's second-largest listed developer, said growth in the value of its property portfolio slowed to 0.3 percent in the last three months of 2011, citing difficulties facing retail property.
The retail sector will be the biggest worry for real estate companies this year, Investec analysts said in a Feb. 7 note, saying the trend for faltering values would "broaden and accelerate".
At the other end of the scale, London's luxury retail map will probably widen beyond the top dozen or so streets as supply fails to meet insatiable demand, property experts said. Formerly rundown areas with edgy images such as Shoreditch in east London are already seeing top fashion houses move in.
"The UK's retail hierarchy is being reconstructed," said Martin Davis, DTZ's Head of UK Research. "Right now, saving the high street seems a bit like King Canute, who demonstrated the impossibility of reversing the tide." ($1 = 0.6323 pound) (Reporting by Brenda Goh; Editing by Tom Bill and Will Waterman)
© Thomson Reuters 2023 All rights reserved.